They still bleed blue and white
Posted 8/21/12
Despite sanctions, local players Hill, Gilliam stay at Penn State
By Greg Pickel
Press And Journal Staff
When Penn State opened summer practice on Aug. 6, its roster was slightly slimmer than it was the week before, as damning NCAA …
They still bleed blue and white
Posted
Despite sanctions, local players Hill, Gilliam stay at Penn State
By Greg Pickel
Press And Journal Staff
When Penn State opened summer practice on Aug. 6, its roster was slightly slimmer than it was the week before, as damning NCAA sanctions caused some players to transfer out of the Nittany Lions program.
However, for two local products, the adversity the sanctions created – a four-year bowl ban, a potentially crippling loss of scholarships and financial penalties – weren't something to run from. When the Nittany Lions open the 2012 season on Sept. 1, Steelton native Jordan Hill and Milton Hershey product Garry Gilliam will still be donning blue and white.
"It didn't take much thought for me; I've been faced with hard times in my career and always pushed through them, and my mindset is the people that do that come out strong in the end," Gilliam said.
Hill took a similar approach to the situation, never wavering or considering other options.
"The only way I would have left is if there wasn't a player left on the team and I had to go," Hill said. "I never thought about anything else."
Once conference foes in high school, Hill and Gilliam are now on the same page, and could both see an equal amount of playing time this season, too.
Hill, a former Steelton-Highspire star, easily took that nod last season, racking up 59 tackles and participating in all 13 games, while Gilliam recovered from a knee injury that forced him out for the season. However, with defensive line coach Larry Johnson's two-deep rotation still firmly in place with Hill as the spotlight, Gilliam will look to reap the rewards of Coach Bill O'Brien's new system, which features the tight-end position heavily.
"There is a lot more opportunities for the tight end this year because there is always at least one tight end on the field at any given time, and sometimes up to three or four," Gilliam said.
"We were involved last year, but it was more in a blocking sense. We are much more involved in the passing game this season."
Hill will make up the rock that is Penn State's front seven, and has a chance for a special season as he takes over the feature role on the defensive line that the now-graduated Devon Still held a season ago.
Still recorded 17 sacks last year.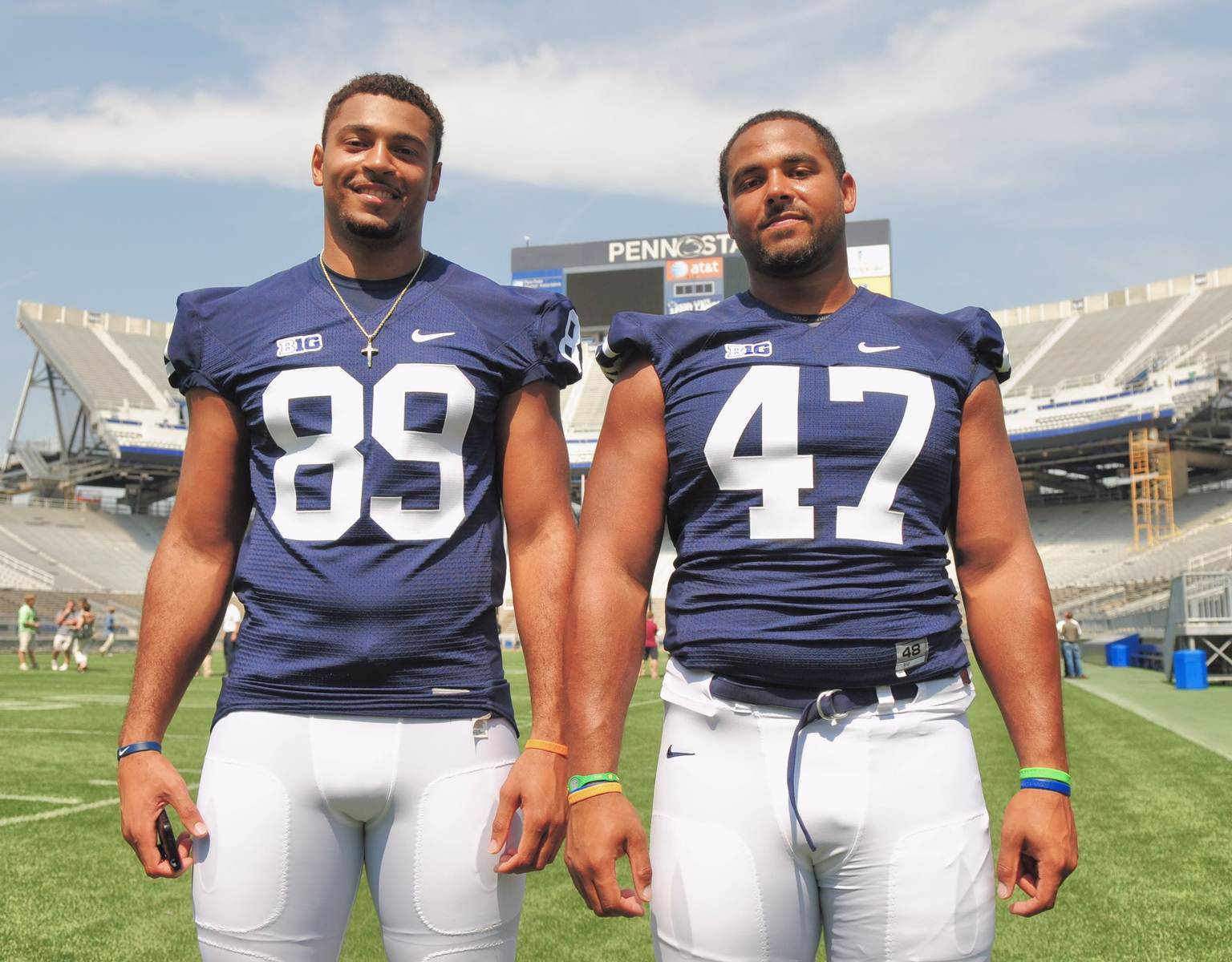 "The front seven is one of our stronger points, because there is a lot of experience and the way we play; we're close and like to go out there and have fun making plays," said Hill.
"We celebrate each other's success, and get all hyped up for each other. This all has put us through a lot and made us all closer on and off the field."
Many Penn State players have made off-the-field strides in terms of conditioning with new strength and conditioning coach Craig Fitzgerald's weight lifting program, and Hill is no exception.
Up to 292 pounds this season, a far cry from the 280 pounds he weighed his senior year at Steel-High, Hill estimates he's gained three to four pounds of muscle heading into his senior season.
"I'm a lot stronger this season, and while I'm down some weight, I've gained a ton of muscle," said Hill.
"It's really prepared me and us for what we have to do."
While Hill, Gilliam and their teammates will all be stronger this season, Penn State as a whole will have a stronger bond, one as solid as the weights inside the Lasch Building weight room.
"I made it known before the sanctions even came out that I was staying, and this has all brought us closer," Gilliam said.
Hill added a similar tone.
"Being able to get back out here in pads and come more and more together has been great, and brought us all naturally closer," he said.