Comeback: Falcons oust Twin Valley, 3-1
Posted 11/12/13
The Lower Dauphin field hockey team is good at winning and keeping cool under pressure.
Defending their Class AAA state title, the Falcons had to remain focused and in sync this season, whether playing a preseason game or a state …
Comeback: Falcons oust Twin Valley, 3-1
Posted

In much of the first half, the Falcons kept possession of the ball, eventually scoring a goal with 7:54 left. Junior midfielder Morgan Bitting took a shot from the top of the circle that was saved by Raider goalie Darby Kozian, but LD center back Gini Bramley put the ball in the goal on the rebound for a 1-0 lead.

Lower Dauphin more than likely would have held that lead into the second half, except for a quick free hit by Twin Valley's Ashley Hoffman that tied the game, 1-1, with 2:40 left in the half.

"[Hoffman] had a beautiful shot," said Lower Dauphin Coach Linda Kreiser. "Our goalie said she couldn't even see it."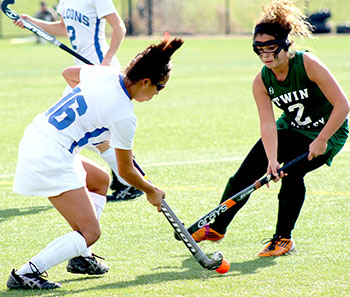 Photo by Noelle Barrett Lower Dauphin's Devyn Barry (16) attempts to get around a Twin Valley defender in the Falcons' 3-1 victory in the PIAA Class AAA championships. But the Falcons remained confident going into the second half.

"We did really well keeping up intensity when they scored on us and tied," said the Falcons' Mary Kate Skitka.

That meant forgetting that it was a tie game, and focusing on the second half.

"Even though it was 1-1, it was the start of a new game," said Falcon left back Delani Higgins. "We came out with fire."

Both teams exchanged possession, but it was the Falcons who connected with the cage.

With 18:33 left in the game, Bitting shot the ball toward the goal. The ball deflected off a defender's stick and went into the goal on the right side, giving Lower Dauphin a 2-1 lead.

The Falcons didn't stop there.

On a corner play, Bitting took a shot on goal with 5:39 left. Kozian, the Raider goalie, stopped the ball, but Lower Dauphin'sTaylor Lister scored on the rebound to give the Falcons a 3-1 lead.

"[Bitting] is so steady receiving those corner hits," Kreiser said.

The Falcons won because of good teamwork, Kreiser said. Her players agreed.

"We worked a really great team passing game," Higgins said.

"It was a real team effort," said Lower Dauphin's Devyn Barry. "Our passing from all positions really helped."

Part of the team's success comes from the teamwork on and off the field.

"My teammates are my best friends," Bitting said. "It's a joy to come to practice everyday." {jcomments on}