We can improve our community through just some little things: Susannah Gal
Posted 2/8/17
My older daughter is working on a certificate in nutritional health counseling and suggested a book to me and my husband called the "The 5 Love Languages" by Gary Chapman.
The book talks about how people often have different ways they …
We can improve our community through just some little things: Susannah Gal
Posted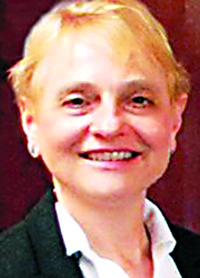 My older daughter is working on a certificate in nutritional health counseling and suggested a book to me and my husband called the "The 5 Love Languages" by Gary Chapman.
The book talks about how people often have different ways they express and hope to receive love, differences which can sometimes create conflict between couples. The love languages described in the book include words of affirmation, acts of service, sharing quality time, physical touch, and giving gifts. It's been an interesting read, so I recommend it.
What I was thinking about is how might we express love for our community. There are actually lots of ways I've seen already in the short 1 ½ years I've lived here. I've seen how much people rallied around the Middletown Area High School football team. There were signs in many windows and on many lawns; blue and gold streamers and bows on posts and banisters. The parade was a huge draw to cheer the team on. Those speak to a love of this community.
Cleaning up trash in our community also shows a love of our town. One of my sisters-in-law living outside of D.C. is a wonderful tender of her neighborhood, going around picking up trash for everyone. She really values that activity so much that I think it sets a high bar for others in her area.
So how could we re-interpret the love languages for our community? "Words of affirmation" might suggest we should say positive, constructive things about our community in the Press And Journal or on the streets; we should also greet people with a "Hello" or a wave, even people you don't know. I know I try to do this a lot so don't be surprised if you hear me say "Good morning" when I see you around town.
"Acts of service" could be translated as picking up trash (yes, even our neighbor's) or volunteering at the library or other community organizations that need your help or shoveling someone else's walk for them if they haven't gotten to it that day. (I'll thank you as I'm sure others will, too!)
"Sharing quality time" might be interpreted as participating in one of the neighborhood or community events such as the Halloween parade, the Christmas tree lighting, the summer community craft fair or the National Night Out event at Hoffer Park.
"Physical touch" might translate into shaking hands with your friends and neighbors when you greet them, or patting someone on the shoulder or back when you meet on the street.
Finally, the love language of "giving gifts" might be represented by contributing to the neighborhood Christmas tree or by putting out flowers to make your area look particularly nice.
In Switzerland, people take decorating their homes and tending their gardens very seriously. The postcards you may have seen of that country with the perfectly groomed lawns and immaculate gardens are real life there. I think this indicates a pride in your space and sharing it with your neighbors. It's a visual gift to everyone who walks by.
What other things could we do to show a sense of love for our community? We could have a few more events to draw people together. In September, the Middletown CAN group had a picnic event that was modestly attended. Maybe that could be repeated. Maybe we could host a series of porch events with different bands or art in areas of town. I heard about this happening in communities such as Mapleton Hill, Colorado. In that case, there were 20 bands on 20 porches over a three-hour period one day. We have some lovely large porches around town including our own that could be the site for some nice music group.
We could host walking garden tours, or a community clean up day. In Binghamton, New York, where we lived before, there was a neighborhood yard sale on our block and then a block party in the evening. It was a great way for us to get to know our neighbors.
We could respect a neighbor's request to quiet our dogs so that our town is an enjoyable place for people. We could show we care for others in town by opening doors when you see someone coming to Karns or by providing directions if someone needs help finding the Brownstone Cafe or the library. We could frequent neighborhood business and say hello when we see people on the streets.
All these little things add up.
What might having people express the love of their community do to those living in that town? I think it would make us happy and proud to live here. I think it would draw more people to the town to enjoy the shops and restaurants and maybe encourage them to move here.
We opened our home to the community for the Middletown Home Tour in December and had more than 70 people come. Last year, we attended the tour and really enjoyed meeting some of our neighbors and hearing about the history of their homes and their journeys to live there. There were many people from other communities so this event in Middletown drew people here. I'm guessing other community events have brought people from out of town.
These ideas aren't for everybody, although it could bring more positive spirit which I for one would look forward to. My husband once saw the adage "You don't have to move to live in a nicer neighborhood" which I think is so true. What are your ideas for showing love to our community? Let's make them happen together!
Susannah Gal is associate dean of research and outreach and a professor of biology at Penn State Harrisburg. She has lived around the world and made Middletown her home in July 2015. She can be reached at susannahgal1000@gmail.com.