Warren Peiffer "Plumber"
Posted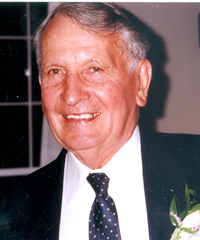 Born in Royalton, he was the son of the late Aaron M. and Annie E. Aderholt Peiffer.
He was the founder and CEO of Peiffer Plumbing and Heating, established in 1950; he was a United States Army veteran, serving during World War II; was a member of Seven Sorrows of the Blessed Virgin Mary Catholic Church, American Legion Post #594 and a former member of the B&POE Lodge #1095, all of Middletown; was an avid gardener, scrap booker, and loved music and history; and he enjoyed sharing his extensive knowledge of local history with everyone he met, including friends, family and his customers.
He was preceded in death by a daughter Audrey Louise Peiffer, and his brothers Lloyd, Wilbur "John," and Harry.
Surviving in addition to his wife, are two daughters Linda S. Nichols and husband George Nichols Jr. of Royalton, and Patti Ann Matincheck and husband Edward T. Matincheck of Middletown; a brother Aaron Peiffer of Middletown; five grandchildren Michaelann Horetsky, Brandon Nichols (Maureena), Nick Matincheck (Deb), Joshua Matincheck (Tracee), and Annie E. Matincheck; four great-grandchildren Elizabeth A. Horetsky, Nicholas J. Matincheck III, Sydney Matincheck, and Adysyn Matincheck; and a great-great-granddaughter Alexis Horetsky.
Warren's Life Celebration Memorial Mass was held on Friday at his church, with the Rev. Ted Keating officiating.
Burial with Military Honors was in St. Mary's Cemetery, Middletown.
In lieu of flowers, memorial contributions may be made to his church, 280 N. Race St., Middletown, PA 17057; the Middletown Home, 999 W. Harrisburg Pike, Middletown, PA 17057; or to the Wounded Warrior Project, P.O. Box 758517, Topeka, KS 66675 or at www.woundedwarrior.org.
Arrangements by Coble-Reber Funeral Home, Middletown.
To share your fondest memories of Warren, please visit www.lifecelebration.com.