Veronica Barnoski
Posted
Veronica "Vera" Shimko Barnoski, 91, of Middletown, passed away on Sunday, November 10, at Frey Village, surrounded by her loving family.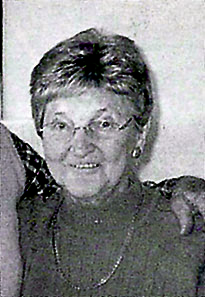 She would have been 92 on November 22. She was born in Larksville to John and Veronica Shimko, and was the wife of Charles Barnoski who passed away in 2012 after 70 years of marriage.

She was a longtime member of Seven Sorrows of the Blessed Virgin Mary Catholic Church, Middletown and was a member of the Legion of Mary at Seven Sorrows of the Blessed Virgin Mary. She was a homemaker most of her life having raised five children.

Years ago she faithfully visited her friends as Frey Village with candy treats. She also liked bingo, puzzles and watching sports.

In addition to her parents, husband, two sisters and a brother, she was also preceded in death by a granddaughter Joanne Sellers.

In addition to her brother John Shimko of Florida, she is survived by five children and their spouses, Barbara and Ron Sellers of Lancaster, with whom Vera lived this past year and a half, Dr. John and Julie Barnoski of Stone Harbor, N.J., Richard and Debra Barnoski of Middletown, Anne Marie and Charles Pringle of Harrisonburg, Va. and Mary Alice and William Vorderbrueggen of Cincinnati, Ohio; 11 grandchildren; and 10 great-grandchildren.

A Tribute to her life will be held at 11 a.m. on Friday, November 15, at her church, 280 N. Race St., Middletown.

Burial will be in Middletown Cemetery.

Viewing will be from 6 to 8 p.m. on Thursday, November 14, at the Frank E. Matinchek and Daughter Funeral Home and Cremation Services, Inc., 260 E. Main St., Middletown, with the recitation of the Holy Rosary at 7:30 p.m., and from 10 a.m. until time of service on Friday in the narthex of the church.

Memorial contributions may be made to Seven Sorrows Capital Campaign, 280 N. Race St., Middletown, PA 17057.

Condolences may be sent online at www.matinchekanddaughterfuneralhome.com.