Va. man arrested on number of charges
Posted 12/14/16
A man wanted out of Fairfax, Virginia. was arrested at a Lower Swatara Township motel on Sunday morning, Dec. 11, after someone tipped off a desk clerk about the man having a gun. Kousmat
The clerk at the Congress Inn on Eisenhower Boulevard …
Va. man arrested on number of charges
Posted
A man wanted out of Fairfax, Virginia. was arrested at a Lower Swatara Township motel on Sunday morning, Dec. 11, after someone tipped off a desk clerk about the man having a gun.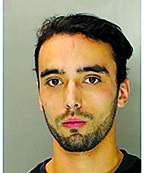 Kousmat

The clerk at the Congress Inn on Eisenhower Boulevard then called Lower Swatara Township police, who were joined by police from Middletown and Swatara Township arrested Mustafa Kousmat, 28, without incident as he was going out to warm up his car around 10:15 a.m., according to a release from Lower Swatara police.

Kousmat, of Alexandria, Virginia., was wanted related to a Nov. 3 incident in Fairfax on charges of abduction by force, robbery, pointing/brandishing a firearm, and assault and battery. He was considered to be armed and dangerous, police said.

The Nov. 3 incident in Fairfax had no connection to this area, police said. Mustafa was at the inn in Lower Swatara to meet up with a female friend, police said.

An unidentified person had called the motel with information about Mustafa having a gun, said township Public Safety Director/Assistant Manager Frank Williamson.

Police did not recover a gun from Mustafa, but upon investigating the complaint discovered that Mustafa was wanted on the charges out of Fairfax.

Kousmat was taken to Dauphin County Central Booking to be arraigned. He is to be extradited back to Fairfax on the listed charges, police said.

Anyone with information about Mustafa is asked to call township police via Dauphin County Control at 717-558-6900.

You may also call Dauphin County Crime Stoppers at 800-262-3080 or visit their website at www.dauphin.crimewatchpa.com and click on the "submit a tip"
{jcomments on}