Street home was a great fit — for us and our piano
Posted 12/7/16
So what made us pick our house at 207 N. Spring St.?Susannah Gal
Well, there are lots of things that helped us to decide on this house, not the least of which was our 7-foot grand piano. That's a hefty piece of furniture that not only needs to …
Street home was a great fit — for us and our piano
Posted
So what made us pick our house at 207 N. Spring St.?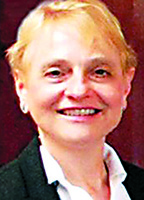 Susannah Gal

Well, there are lots of things that helped us to decide on this house, not the least of which was our 7-foot grand piano. That's a hefty piece of furniture that not only needs to fit in one room of the house (hopefully one on a main floor), but it also needs to be able to get into that room.

This lovely black Mason and Hamlin grand piano was my husband's purchase as he's the one with the music degree and really plays the instrument. He spent a good deal of time researching what type of piano he liked in terms of its "action" (feel and movement of the keys when you play them) and then trying several out in our area of upstate New York.

He found a Mason and Hamlin in California that was being sold to raise money for the nonprofit organization to which it had been given. So sight unseen (at least in person), we bought it, insured it and shipped it back across the country to our home in Binghamton, New York (I say "back" as the piano was initially manufactured in Rochester, New York). It fit very well in our large family room in our old house and served as the focal point for many conversations, several family band practices and one house concert. Now the challenge was to find a new home that would fit this lovely piece of musical furniture.

We are not really new house people, having had a house in Binghamton that was built in 1915 with a large two-floor addition built in the 1980s that had lots of windows. We like a house with some character, although "character" can also mean "needs lots of work." We looked at several places and found some that could house the piano though the entryway would have been too tight or had too sharp a turn to allow us to maneuver the instrument in. Too bad as so many were very nice.

I found our house on Spring Street during an open house a month or so after I moved here. At that time, I thought it was potentially too big and too expensive — too big as it was actually bigger than our home in Binghamton and we were now only a family of two since both daughters have moved out. When my husband saw it, he favored it much more than another place in Middletown in part because of the beautiful large living room with lovely wood floors. When he said "we could have dances here," I was hooked.

The house was built in 1900, by Mr. Roth, who then lived next door in 203 Spring. He built it for his three children. Our house looks like it was built as a triplex with three sets of bay windows both on the first and second floors. Based on the information from our neighbors (who heard it from the previous owner), none of the kids actually lived in the house. I can totally understand that (I can't imagine living next to my parents in my early adult life).
At some point, it was converted into a duplex, taking the two left-side thirds and putting them together. That's the side we have. That makes the outside and inside stairs wider than usual and the main living room large enough to able to host dances. We've actually used the lovely grand piano to play for several of the dances we've hosted. The musicians love it as it has a rich sound.

When we saw the house, it was filled with lots of models of homes, including Fallingwater, designed by Frank Lloyd Wright. This was because the husband of the previous owner was an avid crafter. There is also a wonderfully distinctive mural along all four walls of the dining room. This was painted in 2007 by Theresa Croteau of Rehrersburg for her mother who lived in the house with Mr. Don Greenfield at that time.

Terry told us that she had hiked the Appalachian Trail in sections over several months in 2006 and 2007. Her mother at that point was not able to hike so had to enjoy hearing about it and seeing pictures. Terry decided to paint the mural, which represents two sections of the Appalachian Trail (one in Virginia and the other in Maine), for her mother so she could feel like she was "on the trail."

Terry also said she painted the mural in part to repay her mother for their family home in the Palmdale section of Hershey where Terry lived at the time. When we asked her about the mural, Terry provided this journal entry she wrote just before reaching the summit of the Appalachian Trail in Maine in 2007:

"I think of all the childhood hikes my mom took her five daughters out to enjoy, eating in the woods or a picnic grove. I realize she planted the seed that grew into the fruit of this moment and I am thankful for her, her love of life and the outdoors. I would love to place her on the top of Katahdin Mountain to welcome me as I approach the summit. She deserves views like that … because she gave me a view of life that allowed me to be here."
If you want to see our house and the mural in person, it will be open for the Middletown Holiday Home Tour, 1 to 8 p.m. Dec. 10. Contact the Middletown Historical Society to get a ticket. We'd love to see you. Terry Croteau is expected to be here for at least part of the event as well.

I'll share more about dancing at our house in the new year.
Susannah Gal is associate dean of research and outreach and a professor of biology at Penn State Harrisburg. She has lived around the world and made Middletown her home in July 2015. She can be reached at susannahgal1000@gmail.com.
{jcomments on}