SHAMROCKED: Raiders' first-half blitz too much for Trinity, 36-8
Posted 10/14/14
Asked what his week was like leading up to Middletown's Capital Division clash with visiting Trinity on Friday, Oct. 10, Blue Raider Coach Brett Myers answered with a telling reply: "It was a week following a loss."
Myers was referring, of …
SHAMROCKED: Raiders' first-half blitz too much for Trinity, 36-8
Posted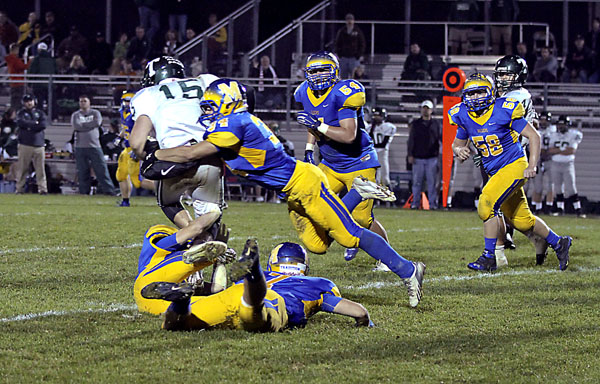 Asked what his week was like leading up to Middletown's Capital Division clash with visiting Trinity on Friday, Oct. 10, Blue Raider Coach Brett Myers answered with a telling reply: "It was a week following a loss."
Myers was referring, of course, to his team's setback against Milton Hershey the previous week, a game in which the Raiders saw their chances for an upset fade away in the second half. So Myers and his staff had to again challenge their team to step up its level of play in preparation of its meeting with Trinity.
And the hard work and determination the staff got from the players paid huge dividends. The Raiders absorbed an early shot by the Shamrocks before staging a dominating comeback and posting an impressive 36-8 victory under the lights at War Memorial Field.
For the full story, CLICK HERE to subscribe to the Press And Journal.