Ruth Wagner
Posted
Ruth K. Brinser Wagner, 101, formerly from Lancaster, has spent the last 20+ years as a resident of Frey Village Retirement Community in Middletown. She has been welcomed home by the Lord on Friday, July 22, 2016.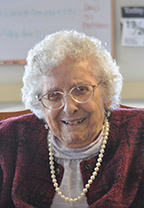 Ruth was born on 06-05-1915 to the late Josiah and Mary (King) Brinser in rural Middletown and married her adoring husband John "Fred" Wagner, also born in Middletown, who has been patiently waiting for her to join him since 1996.

She spent much of her life as a shoe clerk at Garvin's Department Store in Lancaster, and her whole life loving and spoiling her nieces and nephews and all their children.

In addition to her parents and husband, she is preceded in death by five siblings.

Ruth is survived by three nieces, Dolly Messick Baum, wife of Clair of Elizabethtown, Patricia Rudy Miller, wife of Paul of Harrisburg, and Donna Kaylor Moore, wife of William of Elizabethtown; and one nephew Jay E. Epler and his wife Wilma of Middletown.
In addition, Ruth has 12 grandnieces and nephews, 19 great-grandnieces and nephews, and nine great-great-grandnieces and nephews.

She and "Fred" were devoted members of the Trinity E. C. Church of Lancaster until moving to Frey Village in the 1990s. She will be missed by a former longtime neighbor who loved her as "Wag," and many, many other people whose lives she has touched on her journey through life.

A tribute to Ruth's life will be held on Thursday, July 28, 2016 at 11 a.m. at the Matinchek Funeral Home and Cremation Services, Inc., 260 East Main St., Middletown, PA 17057, with the Rev. Donald Walters officiating. There will be a viewing from 10 a.m. until the hour of the service on Thursday.

Interment will be at Hillsdale Cemetery, Middletown.

Condolences may be sent online to www.matinchekfuneralhome.com.
{jcomments on}