Ruth Goepfert
Posted
Ruth M. Goepfert, affectionately known as "Mrs. G.," 88, of Hummelstown, passed away on Saturday, March 15, surrounded by her loving family.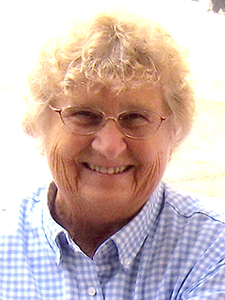 Born in Palmerton, Pa. on December 23, 1925, she was the daughter of the late William R. and Myrtle J. Mooney.
Ruth was a health and physical education teacher at Middletown Area High School from 1962 until her retirement in 1988. While there she was very active and enjoyed helping to shape many of her students' lives serving as advisor for the cheerleaders, student council, and class council, and coaching basketball. She graduated from East Stroudsburg State Teachers College where she was class valedictorian and participated in swimming, diving, gymnastics, basketball, field hockey, and softball. She was inducted into the Sports Hall of Fame at East Stroudsburg University in 1995. As a member of Hummelstown United Church of Christ, she taught the Sunday school kindergarten class for 40 years, encouraging lively music participation with the children.
Ruth's love of teaching, sports, and community continued when she became instrumental in establishing the Hummelstown Swim Club in 1959, and remained its only president for 55 years. Being proactive and understanding the importance of "drown proofing" children, she started the Learn To Swim Program over 50 years ago. She established the Hummelstown Swim Team "Flamingos" at the Hummelstown Swim Club and was influential in helping to launch a swim team at Lower Dauphin High School. The Lower Dauphin Swim Team now gives the Ruth Goepfert Scholar Athlete Award to an individual exemplifying "SPIRIT" qualities of Scholar, Passion, Integrity, Reflection, Involvement, and Teamwork. Ruth recently received the Lower Dauphin Alumni Association Distinguished Service Award in 2013 for service to her community.
Ruth collected clowns, was a Hershey Bears fan, enjoyed the Cupid Shuffle daily at the pool, and loved everything related to Disney, including many trips to Disney World where she was an avid pin trader. Much of her time was dedicated to her duties, projects, and lifeguards at the Swim Club. She loved working with youth because she said, "It keeps me young!" Encouraging, positive, and always leading by example, Mrs. G. will be remembered by many for taking time to listen and her, "How does this look?" lessons. Devoted and wise, family meant everything to her.
She was preceded in death by her loving husband, John L. "Jack" Goepfert, and her brothers Richard Mooney and Donald Mooney.
She is survived by her daughter Linda L. Goepfert, wife of Richard L. Walters of Hershey; her son Douglas J. Goepfert, husband of Gayle Z. Goepfert of Hershey; her four grandchildren Jenna L. Walters, Lauren M. Goepfert, fiancée of Brian deBrauwere, Kristen H. Walters, and Adam C. Goepfert; and her brother Bruce Mooney of Marlton, N.J.
Funeral services were held on Saturday, March 22, at her church.
Interment was in Hummelstown Cemetery.
Those desiring may make memorial contributions to the Hummelstown Swim Club, 270 Linden Road, Hummelstown, PA 17036.
Arrangements were handled by Trefz & Bowser Funeral Home, Inc., Hummelstown.
Online condolences may be shared at www.trefzandbowser.com.