Ronald Strickland
Posted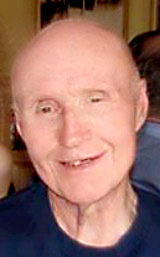 He was born in Middletown on June 9, 1937 and was the son of the late Willis and Mary Myers Strickland.
On Thursday July 11, 2013, Ron gave his life to the Lord with his daughter at his bedside.
He was a retired supply receiver for the former John Wanamaker Department Store, Harrisburg and currently worked for Huntleigh Corporation at Harrisburg International Airport as his postretirement job.
He enjoyed baseball and football and was a fan of the Philadelphia Phillies and the Philadelphia Eagles. Ron loved to work and he loved his friends and co-workers. He walked miles every day whether it was to go to work or other places he liked to go.
In addition to his parents he was preceded in death by his brother William C. Strickland.
He is survived by his daughter Melissa and husband Angel Santos of Manheim; two sons Ronald W. Strickland of Lancaster, and Ronald E. Hoffman of Camp Hill; sister Shirley L., wife of John P. Gaughan of Lower Swatara Township; eight grandchildren who were the light of his life; and three great-grandchildren.
A Celebration of his life will be held at 1 p.m. on Friday, July 26, at the Frank E. Matinchek and Daughter Funeral Home and Cremation Services, Inc., 260 E. Main St., Middletown, with Pastor Tom L. Barnett officiating.
Burial will be in Churchville Cemetery, Oberlin.
Viewing will be from 6 to 8 p.m. on Thursday, July 25, and from Noon to 1 p.m. on Friday, July 26 at the funeral home.
Condolences may be sent to www.matinchekanddaughterfuneralhome.com.