Robert Stoudt
Posted
Robert G. Stoudt, 87, of Middletown, entered into eternal rest peacefully on Sunday, July 31, 2016, surrounded by his loving family.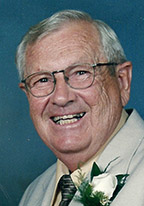 He was born on August 2, 1928 in Sheridan, Pa. and was the son of the late Robert M. and Lottie (Fromm) Stoudt.

He was a member of Evangelical United Methodist Church, Middletown and enjoyed hunting and fishing. He was also an avid Middletown Sports fan.

In addition to his parents, Robert was preceded in death by his loving wife of 67 years, June W. (Houtz) Stoudt on April 23, 2016, and three sisters, Helen Gruber, Winnie Scheib and Pauline Stoudt.

Robert is survived by his three children, Craig Stoudt (Darlene) of Middletown, Carol Hook (Thomas) of Middletown, and Cathy Siegel (Rick) of York; six grandchildren, Christine Schroll, Nicole Hook, Craig Stoudt Jr., Christopher Stoudt, Colin Stoudt, and Emily M. Siegel; five great-grandchildren; two great-great-grandchildren; one brother, James Stoudt (Beverly) of
Newark, Del.; two sisters, Carol Reiser (Lee) of Tower City, and Bonnie Fisher (Harvey) of Wilmington, Del.; and many nieces and nephews.

A tribute to Robert's life will be held on Friday, August 5, 2016 at 11 a.m. at the Matinchek
Funeral Home and Cremation Services, Inc., Middletown, with the Rev. Dan Gilbert officiating.

Viewing will be from 10 a.m. until the time of the service at the funeral home.
Burial will be at Middletown Cemetery.

In lieu of flowers, memorial contributions in Robert's name may be made to the National Stroke Association, 9707 East Easter Lane, Suite B, Centennial, CO 80112; or to St. Jude's Children's Research Hospital, P.O. Box 1000, Dept. 142, Memphis, TN 38148-0142 or www.stjude.org.

Condolences may be sent online at www.matinchekfuneralhome.com.
{jcomments on}