Robert Meyer
Posted
Robert W. Meyer, 72, of Middletown, entered into eternal rest on Monday, September 21, 2015, at the M.S. Hershey Medical Center.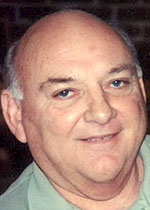 He was born on October 24, 1942, in Miami, Ariz. and was the son of the late Arnold and Lavelle Lewis Meyer.

He was a veteran of the United States Air Force and was stationed at Olmsted Air Force Base from 1960-64.
Robert was of the Protestant faith and was an avid computer enthusiast and videographer. He was retired from Xerox where he was a tech representative for many years.
In addition to his parents, Rob was preceded in death by his son Christopher A. Meyer in September of 2013.
He is survived by his loving wife of 52 years, Peggy A. Fochler Meyer; his son Sean R. Meyer and his partner Philip E. Witters Jr. of Hummelstown; sister Nancy Culver of Apache Junction, Ariz.; two grandsons Grayson R. Meyer and Griffin R. Meyer, both of Middletown; and a brother-in-law James Fochler of Pawtucket , R.I.
A tribute to Rob's life will be held on Friday, September 25, 2015 at 11:30 a.m. at the Matinchek & Daughter Funeral Home and Cremation Services, Inc., 260 E. Main St., Middletown, with the Rev. Jerry T. Cowan officiating.
There will be a viewing from 10 a.m. until the time of the service on Friday at the funeral home.
Burial will immediately follow the services at Middletown Cemetery.

Condolences may be sent online at www.matinchekanddaughterfuneralhome.com.