Robert Kaylor, Sr.
Posted
Robert A. Kaylor Sr., 83, of Middletown, entered into eternal rest on Tuesday, March 5, at The Middletown Home.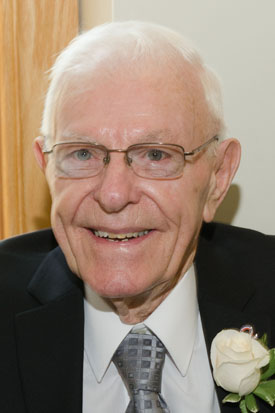 He was born on March 11, 1929, in Middletown and was the son of the late Charles C. and Virgin M. Espenshade Kaylor.
He was a retired machinist supervisor at New Cumberland Army Depot; was a member of Evangelical United Methodist Church, Middletown, serving on the Parish Relations Committee, Board of Trustees, usher, flower committee, and Communion steward; was a former treasurer of Elks Lodge #1092 with 16 years service, and American Legion Post #594, Middletown; was a member of Prince Edwin-Spring Creek Lodge #486 F&AM, Worshipful Master 1989-1990; he was a graduate of Hershey High School Class of 1946; and was an Army veteran of the Korean War.
In addition to his parents, he was preceded in death by a brother Dale R. Kaylor.
He is survived by his wife of 64 years, Jean M. Leggore Kaylor; daughter Vicki K., wife of Andrew Lutzkanin of Middletown; two sons Robert A. Jr., husband of Pamela A. Reider Kaylor, and James B., husband of Kathy R. Albert Kaylor, all of Middletown; six grandchildren; and two great-grandchildren.
A Tribute to his life was held on Saturday at his church, with the Rev. Robert Graybill officiating.
Burial with military honors was in Middletown Cemetery.
Memorial contributions may be made to Evangelical United Methodist Church, 157 E. Water St., Middletown, PA 17057.
Arrangements by Frank E. Matinchek and Daughter Funeral Home and Cremation Services, Inc., Middletown.
Condolences may be shared at www.matinchekanddaughterfuneralhome.com.