Richard Reynolds Sr.
Posted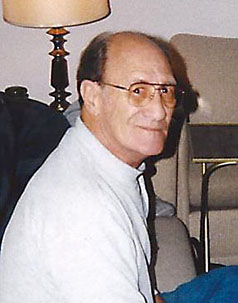 Richard A. "Dick" "Wrap" Reynolds Sr., 80, of Middletown, entered into rest surrounded by his family on Monday, November 4, at the Lebanon VA Medical Center Hospice ward.

He was born on October 24, 1933, in Mechanicsburg and was the son of the late George and Sarah Garland Reynolds.

He served in the United States Army Signal Corps during the Korean War era and retired from the Postal Service as a letter carrier. He was affiliated with Middletown Moose Lodge #410, Middletown Elks, Letter Carrier Association, and the HealthSouth Amputee Mentor Program.

Dick was a throat cancer survivor and participated with the Reynolds Wrappers in the American Cancer Society Relay for Life, Newport, Pa.

Some of Dick's favorite pasttimes include hunting, fishing, camping and working on cars. His greatest joy was the love and company he enjoyed from his children and grandchildren.

In addition to his parents Dick was preceded in death by Shirley Yozviak Reynolds, his loving wife of 48 years and his three sisters Clara, Anna and Kathryn.

He is survived by two sons Richard A., Jr. and wife Naomi Reynolds of Hummelstown, and David M. and wife Trudy Reynolds of Newport; three daughters Sherri L. and husband Jim McGeehan of Mechanicsburg, Linda S. and husband Ed Feeny of Harpers Ferry, W.Va., and Jane E. and husband Jerry Brewbaker of New Bloomfield; and two granddaughters, Brenda and Jenny of Louisville, Ky.

A Tribute to Dick's life was held on Saturday at the Frank E. Matinchek and Daughter Funeral Home and Cremation Services, Inc, Middletown, with the Rev. Paul Maulfair officiating.

Following the tribute, Dick was laid to rest next to Shirley at Woodlawn Memorial Gardens, Harrisburg.

In addition to the love and support extended by Dick's family and friends, his family would especially like to thank the nurses and staff for the genuine love and comfort given to their father while at the Lebanon VA Medical Center as well as the team of Hospice of Central PA.

In lieu of flowers the family appreciates donations in Dick's name to: Lebanon VA Medical Center Hospice Unit, Ward 1-4B, 1700 S. Lincoln Ave., Lebanon, PA 17042; or the American Cancer Society, 2 Lemoyne Drive, Suite 101, Lemoyne, PA 17043.

Condolences may be shared at: www.matinchekanddaughterfuneralhome.com.