Richard Fay
Posted
Richard U. Fay, 95, of Middletown, entered into eternal rest on Wednesday, July 23, at Penn State Milton S. Hershey Medical Center.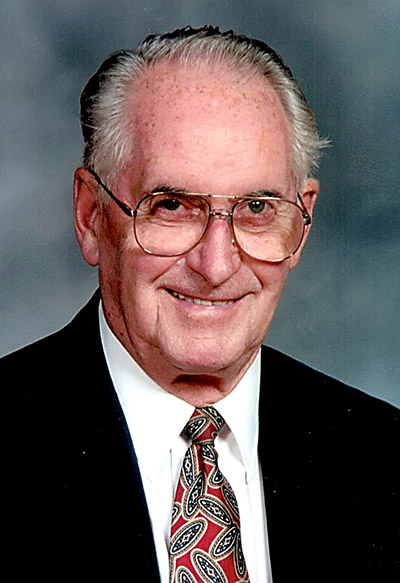 He was born on January 15, 1919 in Smethport, Pa., the third child of Michael Urben and Jessie J. Carter Fay.
"Dick," as he was known, was a longtime member of Seven Sorrows of the Blessed Virgin Mary Catholic Church, Middletown, having served in many of the religious and social activities of the parish. He was a member of American Legion Post 594, Olmstead Toastmasters Club, Third Degree member of the Middletown Knights of Columbus Council 3501, and the Middletown Anglers and Hunters.
He was a graduate of Smethport High School Class of 1937, and was also a graduate of the University of Oklahoma. He was employed at Piper Aircraft Company in Lock Haven before coming to the Olmsted Air Force Base in Middletown, where he was employed for 25 years. During that time he enlisted in the United States Navy for two years until World War II had ended. He returned to the Olmsted Air Force Base after the war until the base closure in the 1960s. Dick then became training director of the Pa. Department of Education for 15 years. Upon retirement, he became a real estate agent with the Homestead Group, Inc., as a realtor until his retirement at the young age of 88, after 25 successful years doing a job he loved.
He is survived by a son Michael A. Fay, DMD, of Bethel Park, Pa.; sister Anna Marie Transki, of Wellsville, N.Y.; niece Sabina; and other nieces and nephews.
Mass of Christian Burial was celebrated on Tuesday at his church, with the Rev. Ted Keating officiating.
Burial with full military honors was held at Indiantown Gap National Cemetery, Annville.
Memorial contributions can be made in Richard's name to Seven Sorrows of the Blessed Virgin Mary Catholic Church, 280 N. Race St., Middletown, PA 17057.
The family has entrusted the care of the Matinchek and Daughter Funeral Home to handle the arrangements.
Online condolences can be sent to www.matinchekanddaughterfuneralhome.com.