Potential sushi restaurant owner should be lauded: Reader View
Posted 1/11/17
Howard Dong (right) presents his plan for an Asian restaurant in the Smuller House Bed & Breakfast to the audience attending a Dec. 21 meeting of the Middletown Historical Restoration Commission. At left is borough codes and zoning officer …
Potential sushi restaurant owner should be lauded: Reader View
Posted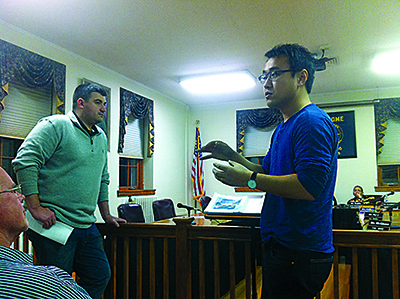 Howard Dong (right) presents his plan for an Asian restaurant in the Smuller House Bed & Breakfast to the audience attending a Dec. 21 meeting of the Middletown Historical Restoration Commission. At left is borough codes and zoning officer Robert Moyer.
In response to the recent article about the potential new Asian restaurant at North Union and High streets, and with particular regard to Ms. Lori Shafaye's comment in it to the effect that our local university students don't give a rodent's behind about the citizens of Middletown: Let's take care not to paint all of the student body with the same broad brush.
There are several fraternities, sororities and other service organizations on campus who have gone out of their way in the recent past to provide unsolicited, beneficial service to borough residents in a variety of ways. These recent efforts have received favorable coverage in the pages of the Press And Journal, which I hope will continue.
That said, I am very much in sympathy with Ms. Shafaye's frustration over student noise, parking issues and rampant disregard for speed limits and stop signs, but we need to be asking for more enforcement diligence in these matters from our local police force in order to resolve them.
With respect to comments about a "need" to keep Mr. Howard Dong from carrying out his plans for a restaurant at the location chosen, I question that necessity. Mr. Dong has said that he wants to preserve the historical integrity of the property, even to the length of preserving the yard and the gazebo as they are to the extent that parking issues can be resolved.
There are many historic buildings all over Pennsylvania (several in our borough) and in other than downtown areas that have been preserved — not in spite of, but rather as a result of having been turned into restaurants. The fact that this proposal is for a restaurant serving Asian cuisine should not make this situation appreciably different from those other establishments.
While we all might prefer a location downtown to the one chosen, the fact remains that the property had been for sale for some time with no takers. Better that it should be in the hands of someone willing to maintain it and with a cash flow to support that maintenance than some other situation.
Mr. Dong should be commended, both for his entrepreneurial spirit and his desire to improve the experience of international students following in his path; there's something undeniably admirable about his wanting to "do well by doing good."
Finally, like it or not, Middletown is becoming a "college town," for better or worse. That presents all sorts of challenges, but also opportunities to revitalize our town in new and different ways. Let's embrace the change for the opportunities it brings us and work together to promote "better" instead of "worse."
Larry Smith
Middletown