New Year's Day fire destroys Demp's Pub
Posted 1/1/13
By Daniel Walmer
Press And Journal Staff
An early morning fire destroyed Middletown landmark Demp's Corner Pub on East Main Street on Tuesday, Jan.1.
New Year's Day fire destroys Demp's Pub
Posted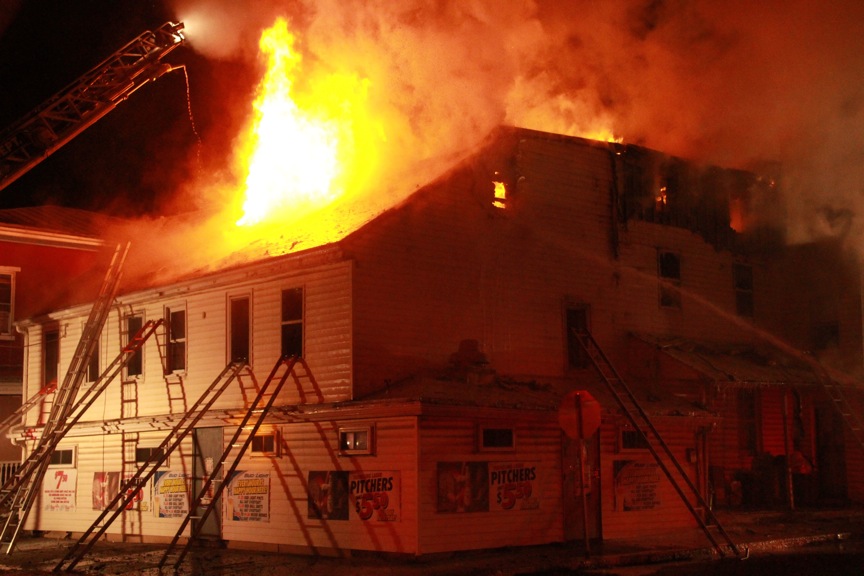 Photo by Don Graham A New Year's day fire destroys Demp's Corner Pub in Middletown.
There were no injuries as a result of the fire, according to fire Chief Ken Whitebread, although one firefighter was treated at the scene for an unknown medical condition.
One person jumped from the building's porch roof into the arms of four neighbors to escape the blaze, according to neighbor Ron Stetler.
The fire was primarily contained to the one building - which contains the restaurant and apartments - although there was some fire damage to the roof of an attached apartment building, Whitebread said.
The attached apartments were evacuated, he said.
Whitebread would not comment on a cause of the fire.
Stetler woke up at about 3 a.m. when he first heard the sound of people pounding on the doors of the apartment building.
"I thought maybe there was a fight or something," he said.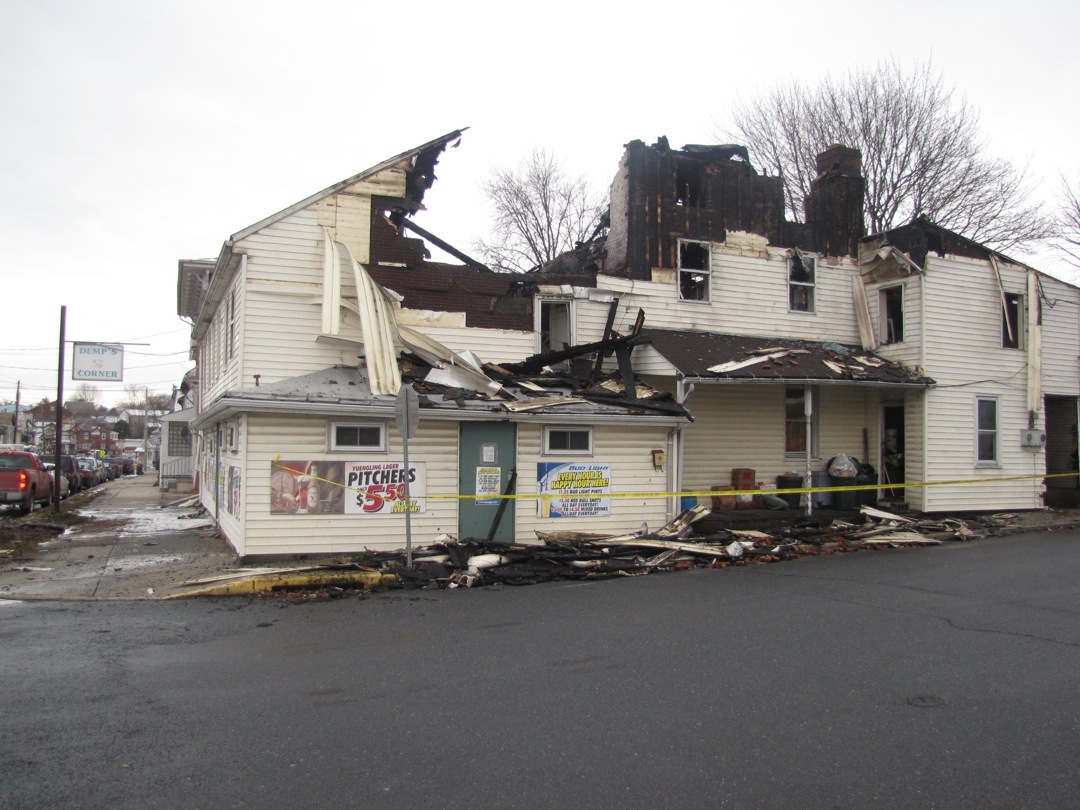 Photo by Daniel Walmer. Middletown landmark Demp's Corner Pub was destroyed by a fire in the early morning of Tuesday, Jan. 1.
Then he saw the fire
and emergency vehicle lights, and understood what was happening.
"Man, it was glowing like hell over there," he said. "That thing was cooking."
Middletown Volunteer Fire Deparment was dispatched to the scene at 2:59 a.m.,
Whitebread said, and was eventually joined by Lower Swatara, Londonderry, Highspire, Hummelstown, Hershey, Elizabethtown, Colonial Park and Bressler fire departments and South Central EMS.
Mount Joy and Palmyra fire departments were on stand-by, he said.
Firefighters left the scene at about 7 a.m., he said, but were called back at 10 a.m. due to additional smoke from the damaged building.