Nettie Laudermilch
Posted
Nettie M. Conrad Laudermilch, 99, of Middletown, born on January 28, 1915, went to be with her Lord and Savior on Thursday, February 20.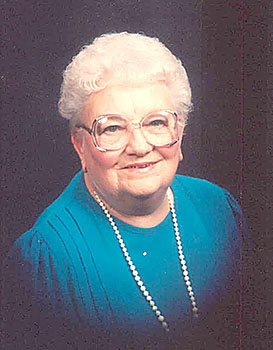 She graduated from Middletown High School. After graduation she worked at Reese's Candy Factory until she married Lester William Laudermilch in 1935. He preceded her in death in 1980. After she started her family, she returned to the workforce at Howard Johnson's on the turnpike where she worked for over 30 years.Until her physical condition prevented her, she was an active member of the Women's Sunday school at Evangelical United Methodist Church, Water St., Middletown. She was also a former member of the Golden Agers.
She was preceded in death not only by her husband, but by her two eldest daughters Janet L. Meinsler and Donna L. Mullen, her son William T. Laudermilch, and her grandson Lynn C. Meinsler.
She is survived by her youngest daughter Bonnie L. Condran; her brother Ellis Conrad; grandchildren Gary R. Mullen, Scott C. Meinsler, Vicky L. Sauder, Darrin Mullen, Craig Laudermilch, Casey C. Meinsler, Julie Laudermilch, and Jamie-Lynn Taber; 13 great-grandchildren; two great-great-grandchildren; and a number of nieces and nephews.
Her family will remember her lovingly and pray that she is enfolded now in the loving arms of those who passed away before her.
A Tribute to her life was held on Tuesday at the Matinchek and Daughter Funeral Home and Cremation Services, Middletown, with the Rev. James Dawes officiating.
Burial was in Middletown Cemetery.
Memorial contributions may be made to the Middletown Home, 999 W. Harrisburg Pike, Middletown, PA 17057.
Condolences may be sent online at www.matinchekanddaughterfuneralhome.com.