Nancy Moure
Posted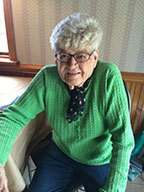 Nancy Louise Kinsey Moure, 82, of Hummelstown, passed away peacefully with family by her side on Thursday, April 30, at Community General Osteopathic Hospital, Harrisburg.
She was born Monday, September 12, 1932 in Harrisburg to the late Galen T. and Dorothy A. Arbogast Kinsey.
Nancy was a graduate of Middletown High School and; she retired from Chloe Textiles; she was an avid bowler and loved going to the casino and playing cards with her children and grandchildren; and she was a member of Middletown Moose Family Center 410 Chapter 553, and a huge Washington Redskins and Notre Dame football fan. Most importantly she was a proud and loving mother, grandmother, great-grandmother, and sister who will be deeply missed.
She was preceded in death by her former husband Arthur E. Moure in 2012, a son Arthur E. Moure Jr., and four siblings Galen Kinsey Jr., Donna Ricker, Sandra Dengler, and Cindy Carlson.
She is survived by three daughters, Vicki L. Via and husband Richard C., Cathy A. Sukley and husband Peter, and Darla K. Via and husband Charles W. II; five grandchildren, Shari Vallati, Stefani Smith and husband Robert, Brian M. Moure, Charles Via III and wife Cara, and Valarie K. Via; six great-grandchildren Robert Jr., Hunter, Kaitlyn, Kooper, Carter, and Tyler; two sisters Miriam Bretz, and Ruth Firnhaber; and a niece Gayle Lorraine Geesey.
Funeral services were held on Tuesday at Fager-Finkenbinder Funeral Home & Crematory (formerly Cobel-Reber Funeral Home), Middletown, with Pastor Leon Via III officiating.
Burial was in Middletown Cemetery.
In lieu of flowers memorial contributions may be made in her honor to the American Cancer Society, P.O. Box 897, Hershey, PA 17033.
Condolences and memories may be shared at www.fager-finkenbinder.com.