Mike Bowman resigns from zoning hearing board
Posted 10/28/14
Press and Journal Photo by Dan Miller -- Mike Bowman places American flags he purchased along a Middletown street this summer.
One of Middletown's most active citizens says he is "done" with the borough.
…
Mike Bowman resigns from zoning hearing board
Posted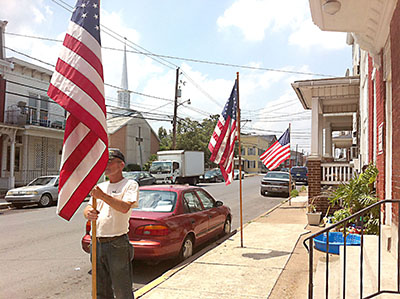 Press and Journal Photo by Dan Miller -- Mike Bowman places American flags he purchased along a Middletown street this summer.
One of Middletown's most active citizens says he is "done" with the borough.
Mike Bowman, a Wilson Street resident, has resigned from the Middletown Zoning Hearing Board, which he had chaired. Bowman told the Press And Journal he is also stepping down from the borough Police Pension Board and the Emergency Management Board.
"I'm done with this [expletive]," Bowman said.
Usually dressed in a white T-shirt and sporting a Vietnam veterans' baseball cap, the white-bearded Bowman for years has been a fixture at Middletown Borough Council meetings, and at just about every other public meeting in Middletown. Rare is the meeting where Bowman has no public comment to offer.
He's previously run for mayor and council, the last time in 2013.
During council's most recent meeting on Monday, Oct. 21, Bowman lashed out over what he saw as the borough's failure to address his code enforcement concerns.
A landlord who owns several properties in town, Bowman complained about a neighbor running a chain saw "all the time" and piling wood against Bowman's fence. Bowman said he complained to the borough but that nothing has been done.
Meanwhile, Bowman accused the borough of singling him out for potential code violations. He said a borough codes officer was inspecting vehicles parked on alleys along some of Bowman's properties, while ignoring legitimate code issues elsewhere in town. Bowman also criticized the borough over wanting to make him install a sprinkler system in one of his properties.
When asked by the Press And Journal why he has resigned, Bowman said Borough Manager Tim Konek has not given him information about bills that the borough pays related to zoning hearing board meetings, such as for the solicitor and a stenographer.
Bowman said Konek won't even tell him what the borough's annual budget is for the zoning hearing board.
"If I'm responsible for the budget I should know what it is I am responsible for," Bowman said.
Borough spokesman Chris Courogen said he could not comment on Bowman's resignation because the borough had received no official word from Bowman that he had resigned.
Bowman said he told Borough Secretary Amy Friday and Konek in person of his decision to resign. He did not submit a resignation letter because "I don't want to bust on Tim in writing."
Bowman has been no stranger to controversy during his years of involvement with the borough.
He has clashed publicly with many other borough officials, elected and appointed, past and present. In one recent dust-up, Bowman demanded that Mayor James H. Curry III apologize to members of council's public safety committee for published comments attributed to the mayor that the committee was corrupt in its process of hiring Police Chief John Bey. Curry told Bowman that the committee members during a closed-door session had agreed to drop the matter.
Bowman is also known for giving the Nazi "Heil" salute to then-Council President Rodney Horton in 2008 after Horton cut Bowman off for exceeding a five-minute limit on public comment.
But if Bowman is serious about no longer having anything to do with the borough, the town stands to lose more than his public theatrics.
Bowman has another side, as noted by Rachelle Reid, a former borough councilor who is also very active in town affairs.
Bowman has helped decorate Hoffer Park for the holidays. He has been diligent in trying to keep up Kids Kastle, the park for children located in Hoffer Park. During National Night Out, when organizers ran out of ice, spoons and other "last minute" items, Bowman took it upon himself to do the re-supplying, Reid said.
On the eve of this past Fourth of July, it was Bowman who stepped up to maintain the town's tradition of displaying American flags on the square and elsewhere. When Bowman learned that Sam Bangert could no longer do the job himself after so many years, Bowman spent $300 to buy 30 flags and poles from Bangert.
"Mike has a lot of great ideas. He's a very smart man," Reid said. "Sometimes people don't take him seriously because of his actions. I don't agree with his public attacks on private citizens and I have told him that. But his heart is always in the right place. He cares about this town."
Dan Miller: 717-944-4628, or danmiller@pressandjournal.com