MIDDLETOWN SOFTBALL: Promising Raiders aim for playoffs
Posted 3/19/13
It was only two short years ago that Middletown's softball team was competing in the PIAA District III playoff tournament. Last season, the Blue Raiders missed the postseason by just one game. With the 2013 campaign rapidly approaching, the …
MIDDLETOWN SOFTBALL: Promising Raiders aim for playoffs
Posted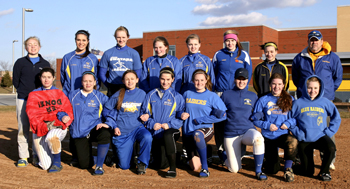 "We really want to get back to the playoffs," said Coach Michael Thomas. "We tasted it two years ago when some of these girls were freshmen. Last year we made too many little mistakes, and if we can cut that out we should contend for a playoff spot."

Thomas is entering his third year as Middletown skipper and a core group of players who contributed to the Raiders' success in each of his first two seasons will return this spring. Emily Mattes and Halle Marion, the team's reigning Keystone Division First-Team All-Stars, are both back, as are All-Star honorable mention vote-getters Emilee Ernst and Sarah Gossard.

The Raiders did lose three starters from last year's team, but Thomas has a group of young talent joining the varsity squad this season.

Cynthia Becker, Michaela Shaver and Caitlyn Feltenberger will be making the step up from the junior varsity squad. Thomas said the trio has been working hard and should see plenty of playing time.

The Raiders will also get some help from freshmen Ava Mrakovich and Rachel Applegate. Three of the five will earn a starting role, and the skipper hasn't ruled out platooning the bunch as needed.

Preseason practice would have been an ideal time to evaluate the talent joining Middletown this spring. Unfortunately, the recent string of cold, wet, windy weather has limited the team's field time.

Even without practice time, Thomas has pinpointed sloppy play as an area that can be improved while he feels team speed will be a strength. Untimely errors cost the Blue and Gold a few victories last season, and the Raiders aren't about to let history repeat itself.

"We've only had one practice so far on a field," said Thomas. "The rest has been gym, fitness center and on the macadam. Our team strength this year should be a lot more speed. We intend to be aggressive on the base paths this year and stretch singles into doubles and put the pressure on the opposing team's defense.

"We have been hitting well off the pitching machine and I'm very pleased, but there's nothing like live pitching. So we shall see."
---

Thomas predicts his team will be good defensively, though he admits he made the same prediction before last season "and that turned out to be our weakness,'' he said.

"However, I'm going to say our infield defense should be pretty solid,'' Thomas said. "I'm just a little concerned with our outfield defense because we are replacing two starters. We will be very solid in center field with returning starter and lone senior Kirsten Hrobak manning the position. She might have to cover a lot of ground to start the season."

Hrobak's senior leadership and the quick learning abilities of some of the younger players will need to be on display if Middletown is to compete in the Mid-Penn Conference's Keystone Division this spring. Defending division champion Lower Dauphin has been tough the past few years, and even though the Falcons lost perennial All-Star Casey Alcorn to graduation they should reload and be the division favorites again, Thomas said.

"I expect Susquehanna Twp. to be tough as well," he said. "They have one of the best pitchers in the league. Also, Harrisburg should be tough with Lexus Allen on the mound. I also think Bishop McDevitt is an up-and-coming program. It should be a very tough and competitive league this year. I think it will be very close with a handful of teams bunched together in the end."

Middletown's youth seems to be both a blessing and a detriment. On one hand, common sense says the team's inexperience should make it difficult to mow down the toughest squads in the league and contend for a division crown. On the other hand, the Raiders have a solid foundation in place and should be set to make noise for years to come.

Thomas isn't thinking about the future, however. He and his players are ready to compete now. Something as simple as making routine plays could be the deciding factor on whether or not Middletown is playing postseason softball in May, and he knows it.

"We lost too many games last year by one or two runs because of one bad inning of errors; we can't let that happen this season and the girls know that," said Thomas. "The six returning starters know this and they'll make sure that doesn't happen this year."

The Raiders may be young but there won't be any excuses if the Blue and Gold fails to achieve the goals being set forth while waiting out the weather. Middletown isn't looking past any opponent but the message is certainly clear: Anything less than a playoff berth will be a disappointment.