MIDDLETOWN BASEBALL: Raiders hope attitude makes up for lack of numbers
Posted 3/19/13
"Attitude'' and "arms'' are the key words for this year's Middletown Blue Raider baseball campaign."Our numbers are down this year. We only have 28 players who came out for the first day of practice," noted Coach Mike Carnes, who …
MIDDLETOWN BASEBALL: Raiders hope attitude makes up for lack of numbers
Posted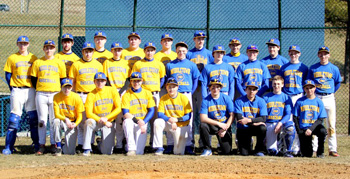 That thought was reflected by junior varsity Coach Adam Shaffer as well. And that's where the attitude part comes into play – on the plus side.

On the other side of the coin, Carnes has a limited number of pitching candidates to work with, both experienced and inexperienced.

"Last year I had eight or nine guys I could send in to pitch, that I felt comfortable with. I have less this time around," he said. And that's where the arms part stands out. "Right now, we have three starters for sure and we need to find some others," Carnes said. As it stands, at least in the early weeks, all of the pitchers will be underclassmen, although there is experience among them.

The 28 players will make up both the varsity and junior varsity squads, and the coaching staff is working on deciding which players will suit up at either level. Five seniors, six juniors, 12 sophomores and five freshmen make up the roster.

Putting the pieces together is order No. 1 for Carnes. Six players, all of whom were regulars from last year's team, graduated in June, leaving some major holes to fill in 2013.

Of the seniors on the roster this spring, infielder Dylan Bower brings back the most experience. Primarily a second baseman last season, Bower may be called on to also play at shortstop and third base.

The other seniors are outfielder Zach Buell, who saw some varsity time last year; first baseman Tyler Dintiman; infielder/outfielder Eddie Finsterbush; and outfielder Jerry Kohout. Finsterbush and Kohout spent some time on the varsity squad as well.
---

Of the junior class, Nick Drawbaugh, Cody Fox, Josh Matinchek and Ryan Popp are veterans from a season ago. The other two, outfielder/pitcher Bobby Harper and pitcher/infielder Aaron Gray, were on the junior varsity squad in 2012 and will add some depth to the varsity team this spring.

Drawbaugh was the starting first baseman last year and the big right-hander also recorded multiple innings on the mound. Fox was a regular in the outfield and filled in behind the plate when last year's catcher was pitching.

Matinchek is a returning veteran outfielder and Popp had a couple starts at second base late last season. Carnes is looking for Gray to add depth to the pitching staff in 2013.

Sophomores Nathan Ocker and Zack Sims will be key parts to the pitching staff in the new season and also man starting infield positions when not on the mound. Both have the arms and the tools to become top line pitchers for the Raiders.

Ocker will hold down the shortstop position when not pitching and Sims is leading the way at third base. Along with Drawbaugh and Bower, the group looks to be pretty solid defensively.

Other sophomores include Josh Alcock (1B,P), Brett Altland (OF), Eddie Arnold (OF/C), Kyle Finsterbush (2B/SS), Jordan Flowers (1B/OF/P), Jordan Handley (2B/P), Ulyses Hernandez (2B), Dagen Hughes (2B/OF), Ethan Kell (C) and Brent Newton (1B/3B/P). Carnes has Kell slotted in as his starting catcher and believes he is going to be a good one. Flowers and Handley will help the pitching staff.

Brandan Dintiman (2B/C), Brandon Harper (1B/3B/P), Jonnathan Hernandez (OF), Justin Imler (3B/OF/P) and Jacob Jones (OF) make up the freshman class. Harper, a tall, lean left-hander, could see some time on the hill for the varsity squad.

Carnes has been working with the team on the offensive side, especially the hitting. "We've taught them about hitting the ball up the middle and they have really picked up on that part of the game,'' he said. "They understand what we want them to do."

How it all comes together remains to be seen and the competition is not going to be easy with the likes of Lower Dauphin, Hershey, Mechanicsburg, Bishop McDevitt and Susquehanna Twp. on the division schedule

The Raiders start off the season with a nonleague contest against Elizabethtown on Friday, March 22.
Larry Etter can be reached at larryetter66@gmail.com.