Martha Sohn
Posted
Martha Elizabeth Sohn, entered into eternal rest on Saturday, September 10, 2016, at her home surrounded by her loving family.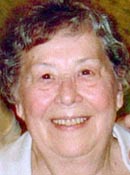 Martha, age 90, was a longtime resident of Middletown. She was born on April 18, 1926 in Northumberland and was the daughter of the late Frances A. (Snyder) Hancock.
In addition to her mother, she was preceded in death by her husband, Donald Sohn, her daughter, Donna Disney, and two sons-in-law, John Rishar and Fred Disney.
Martha was a 50-year member of Evangelical United Methodist Church of Middletown, the American Legion Post 594 Ladies Auxiliary, Women of the Moose, and the Middletown Elks Club. She worked as a waitress for over 50 years and was known as Marty by her customers. Martha loved spending time with her family and always treated them with her homemade cakes and pies.
Martha is survived by her daughters, Deena Rishar of Middletown, and Susan Way and her husband Adrian of Mechanicsburg; nine grandchildren, Donald Disney and his wife Susan, Kraig Disney and his wife Lora, Jody Berry and her husband James, John Rishar Jr., Jill Rishar, Jamie Rishar (Mike Swartz Jr.), Lauren Oeler and her husband Clark, Brenton Way and his wife Beth, and Mitchell Way (Lauren Brekosky); 13 great-grandchildren; three great-great-grandchildren; and a brother, Gail Hancock.
A tribute to her life will be held on Friday, September 16, 2016 at 11 a.m. at the Matinchek Funeral Home and Cremation Services, Inc., 260 E. Main St., Middletown, with the Rev. Lee Ellenberger officiating. Visitation will be from 10 a.m. until the time of the service on Friday at the funeral home.
Burial will be in Middletown Cemetery.
Memorial contributions in Martha's name may be made to Hospice of Central PA, 1320 Linglestown Rd., Harrisburg, PA 17110.
Condolences may be sent online at www.matinchekfuneralhome.com.