MAHS grad Finsterbush wraps up stellar soccer career at Millersville: Larry Kapenstein
Posted 7/24/19
As a 5-year-old when he first stepped onto the soccer field, you could tell immediately he was born to play soccer.
His dad said that when he was a baby he just looked like a "Bubba." …
MAHS grad Finsterbush wraps up stellar soccer career at Millersville: Larry Kapenstein
Photo courtesy of millersvilleathletics.com
Posted
As a 5-year-old when he first stepped onto the soccer field, you could tell immediately he was born to play soccer.
His dad said that when he was a baby he just looked like a "Bubba." Hence, since then, very few ever referred to Bubba Finsterbush by his given name of Kyle.
Size never mattered to Bubba. He was always the quickest, fastest, most powerful player on the field and could unleash viciously powerful shots on goal. He would take all of the important throw ins, all of the free kicks and penalty kicks. He was just stronger than all of the bigger kids on the team. He could also jump higher than anyone and would win the vast majority of the 50/50 balls in the air over taller players.
Always the leading scorer on his team throughout club and high school, Bubba transitioned into a standout defender as a senior in high school and then as he moved into his new role with Millersville University. He first became a defender when, as a senior on Middletown Area High School soccer team, the team began the season at 1-3.
After moving to defense, Middletown won the next 11 out of 12 games. The team went on to make the playoffs and finish 12-6, one of the better records in many years of Middletown soccer. He would become a first-team all-star in the Mid-Penn Conference Capital Division.
Bubba flew under the radar when college recruitment time came because he didn't play club ball after 12 years of age. When given information about this special kid, Division II Millersville University's head coach Steve Widdowson said he would take a look. In an exchange of emails between his high school and future college coach, Widdowson said that "Bubba checked all of the boxes. We want him to go to Millersville and become a Marauder."
Finsterbush is now finished with his college soccer career. This past season he led his team to its first PSAC championship in seven years. He became the first Millersville soccer player in the history of the school (since 1960) to earn recognition as a U.S. Soccer Coaches Association Division II all-Atlantic Region player for four straight years.
Other honors included being only the second player in school history to make all-conference for four straight years.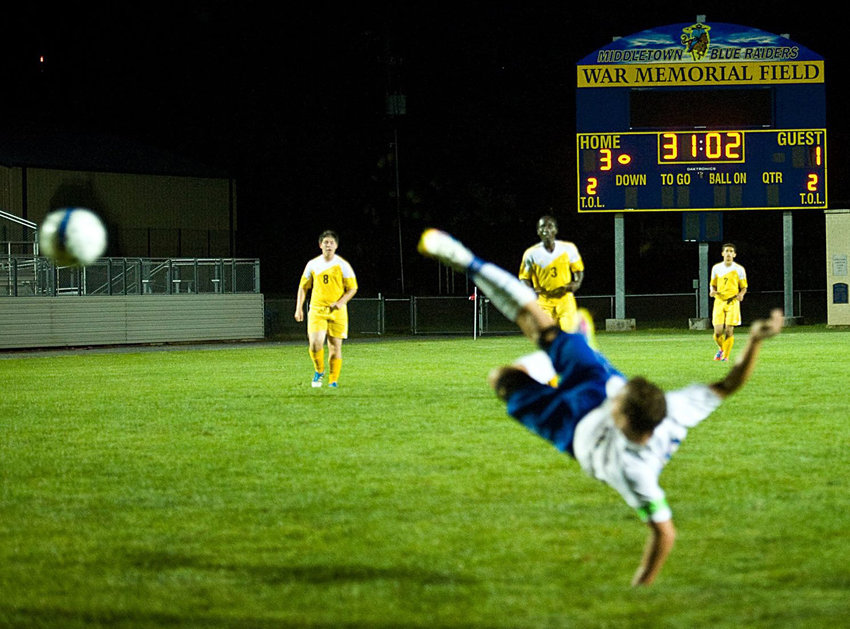 SUBMITTED PHOTO
Bubba Finsterbush gets off a spinning shot during a game while playing for Middletown Area High School.
"I would have never expected all of the accolades I have achieved throughout my four years," Finsterbush told millersvilleathletics.com. "But I would not have been able to do it without all of the great players who I had around me since I first became a member of the team. These guys all helped me shine."
He was described on the Millersville website as a "dynamic presence fortifying the back lines while pushing up into the attack on corners and set pieces in his illustrious Marauder career." His endurance was amazing, playing almost every minute of every game since he was a freshman.
"I'm hoping that the legacy I leave on the team is that I was always one of the hardest working players at practice as well as on the game days," Finsterbush told millersvilleathletics.com. "I always was looking for ways to get better."
Widdowson summed up Finsterbush's career this way: "Bubba has been an integral part of our defense since the day he joined the program. We knew that he would be the key piece to our defensive line that we could build around during his time here at Millersville. Over his four-year career, we saw Bubba grow as a person, player and leader and establish himself as one of the best center defenders in the conference, region and country. I am thrilled that he could end his career with a PSAC championship. Now he leaves us the very difficult task of trying to replace him as we plan for life without Bubba anchoring our defense."
Bubba Finsterbush was born to play soccer. Middletown is very proud of him and where he goes from here, we'll just have to wait and see.
Larry Kapenstein is the former Middletown Area High School head boys varsity soccer coach who coached Bubba Finsterbush for five years.