Lynn Calaman
Posted
Lynn Ann Calaman, 69, of Fairview Township, formerly of Middletown, passed away peacefully in her sleep in the early morning of Friday, January 17.
She was born February 1, 1944 in Philadelphia to John Paul and Jane Simmons Scanlon.


She married John Calaman on December 4, 1984, and the couple shared many happy years together with children and grandchildren.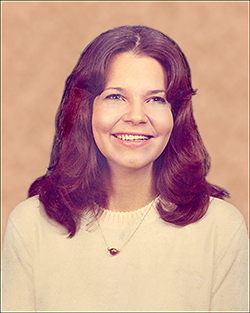 Lynn was a proud member of the Daughters of the American Revolution Cumberland County Chapter. She was retired from GPU Nuclear at Three Mile Island, having worked there 20 years as a paramedic and EMT in the plant's medical department. She enjoyed running with the Liberty Fire Hall Co. and River Rescue, however her greatest joy came from the love she received from her family, especially her children and grandchildren.


She was preceded in death by her daughter Master Sgt. (USAF retired) Bronwyn Kyle Flynn.


In addition to her husband she is survived by her sons Bradford Scott (Susan) Flynn of Middletown, Christopher Andrew Flynn III of Coatesville, and Keith Allen Flynn (fiancée Alecia Thomas) of Elizabethtown; daughter Kimberly Lowell Flynn of Elizabethtown; sister-in-law Connie Seavey of Middletown; her beloved grandchildren Christopher (Jessica) Lawson of Middletown, Lynne (Darrell) Flynn-Garloff of Elizabethtown, Dawn Marie (Christian) Flynn-Kautz of Marietta, Lorilei Lynn Flynn of Harrisburg, Sarah Jane Flynn of Kansas City, Maygen Lee (Eric) Pantleo of Santa Rosa, Calif., Cynda Flynn of Highspire, and David Keith Hanson of Ohio; great-grandchildren Dayne, Hunter, Dakota, Olivia, Madilyn Rose, Bradley Kyle, and Kylee; daughter-in-laws Janet (Barry) Mills of Etters and Sandra Kay Smith of Highspire; her BFF Etta (Jim) Tidwell of North Port, Fla.; and many nieces and nephews.


Friends and family are invited to a Celebration of Lynn's life at noon on Wednesday, January 22, at Matinchek and Daughter Funeral Home and Cremation Services, Middletown, with the Rev. Paul Maulfair officiating.


Cremation and laying her ashes to rest at the Crossroad Cemetery in Fairview Township will be private. Visitation will be held from 10 a.m. until time of service at the funeral home.


Memorial contributions may be made in Lynn's name to the York County SPCA.


Condolences may be sent online at www.matinchekanddaughterfuneralhome.com.