Louise Travitz
Posted
Louise (Shackelford) Travitz, 78, of Middletown, passed away on Tuesday, December 13, 2016 at Frey Village. Born in South Carolina on Wednesday November 2, 1938, she was the daughter of the late Howard and Clara (Blackmon) Shackelford. She was the wife of the late Robert O. Travitz who passed away earlier this year in March.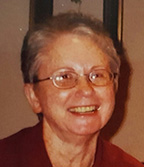 She was a member of Seven Sorrows BVM Church, Middletown. She was retired from Highmark in Camp Hill. Her passion was being a mother and spending time with her family. Louise also enjoyed listening to Elvis, reading romance novels and telling family stories.

Louise was preceded in death by a sister Shirley Horton, and a brother Jerry Shackelford.

Louise is survived by a daughter Karen L. Shaffer and husband Merrill of Palmyra; a son Robert O. Travitz Jr. and wife Marie of Lebanon; three granddaughters, Abbey Travitz, Emma Travitz and Lilly Shaffer; three sisters, Ruby Ross, Evelyn Hester and Rachel Adams; and two brothers, Howard Shackelford Jr. and Richard Shackelford.

A Mass of Christian Burial was held on Monday, December 19, 2016 at 11 a.m. at Seven Sorrows BVM Church, 360 East Water Street, Middletown. Viewing was from 10 a.m. until the time of the service.

Interment was in Middletown Cemetery.

Arrangements entrusted to Fager-Finkenbinder Funeral Home and Crematory, Inc., Middletown.

Memories and condolences may be shared at www.fager-finkenbinder.com.
{jcomments on}