Loretta Amspacher
Posted
Loretta M. Lutter Amspacher, 90, of Middletown, entered into eternal life on Tuesday, February 25, at Frey Village Retirement Center, surrounded by her loving family.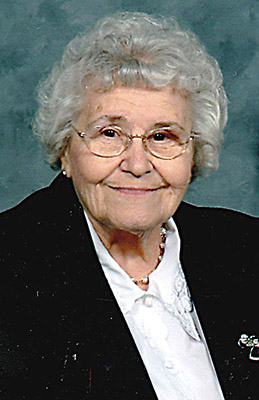 She was born in New Freedom on October 6, 1923 and was the daughter of the late Conrad and Sophia Keller Lutter.
She was a member of Seven Sorrows of the Blessed Virgin Mary Catholic Church, Middletown, for over 50 years where she was one of God's Housekeepers and was an active member of St. Bernadette Catholic Church, Duncannon for 7 years; she worked as a shoe assembler at the former Miller-Hess Shoe Co., Middletown; was a member of the Hershey Region Antique Auto Club of America for over 25 years; and she enjoyed sewing, gardening, crocheting, playing games, cooking, and baking. Her greatest joy came from the love she received from her family, especially her grandchildren and great-grandchildren.
In addition to her parents, Loretta was preceded in death by her husband Ray R. Amspacher and her daughter Dolores M. Amspacher.
She is survived by her five loving children Richard E., husband of Louise Amspacher of Duncannon, Joan M. Stewart of Middletown, Margaret A., wife of Frank Gambino of Harrisburg, Lucy A., wife of Jeff DeLuca of Hershey, and Theresa L., wife of William Knight of Lewisberry; two sisters Rosa Amspacher of Harrisburg, and Sr. Elizabeth T. Lutter of Aston; brother John Lutter of New Freedom; 13 grandchildren; 16 great-grandchildren, and one due in April.
Mass of Christian burial was celebrated on Tuesday at her church, with the Rev. Ted Keating as celebrant.
Burial was in Indiantown Gap National Cemetery, Annville, with the Rev. Ted Keating and Pastor Shawn Madrid officiating.
In lieu of flowers, please donate to Frey Village Activity Fund or Frey Village Benevolent Care Fund, 1020 North Union St., Middletown, PA 17057.
Arrangements by the Matinchek & Daughter Funeral Home and Cremation Services, Middletown.
Condolences may be sent online at www.matinchekandddaughterfuneralhome.com.