Lloyd Ross
Posted
Lloyd A. Ross, 92, of Cammal, Pa., passed away on Saturday, November 28, 2015, at the Middletown Nursing Home, Middletown.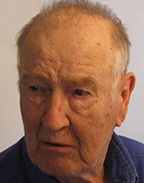 He was preceded in death by his parents Ernest and Esta Ross, three sisters Betty Claremont, June Campbell, and Phyllis Schaeffer, wife Doris (Riley) Ross, and son-in-law Robert Mansberger II.

He is survived by his devoted wife of 43 years, Jennie E. (Rupp) Ross; a sister Janet Tomb; three children Dolly Mansberger, Brenda Onion (Jim), and Kenneth Ross (Cindy); two grandchildren; and one great- grandchild. His extended family includes two children Marie Readinger (Joe), and Harry Rupp, and numerous grandchildren, great-grandchildren, and great-great-grandchildren.

After graduation from Jersey Shore High School, Lloyd served in the Pacific Theatre, 5th Army Air Corp, as an Engineer Gunner. After his service time he was employed as a physical science technician with the Federal Government for 35 years. He was a Past Master of Prince Edwin Masonic Lodge #486, a 50-year member of Zembo Shrine Ushers Unit, a member of the Hershey Shrine Club and the Harrisburg Consistory. He enjoyed camping, traveling, hunting, and participating in flea markets.
Graveside services with full military honors will be held at Indiantown Gap National Cemetery on Tuesday, December 8, at 2 p.m., with Pastor William Stoffel officiating.

Memorial contributions may be made to Lloyd's church, Evangelical Congregational Church, 5566 Elizabethtown Road, Lawn, PA 17041.
{jcomments on}