Lion women top Abington, Wilson to increase winning streak to four
Posted 1/29/13
Submitted Photo- Penn State Harrisburg's Miranda Zeanchock (32) puts back a rebound in the Lions' victory over Wilson. Zeanchock led the Lions with 24 points.By Adam ClayFor The Press And Journal
Amanda Moyer hit the 20-point mark for the …
Lion women top Abington, Wilson to increase winning streak to four
Posted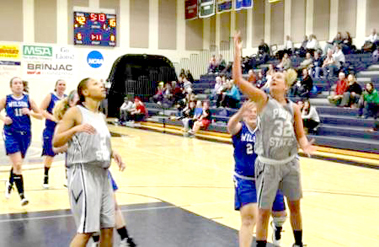 Submitted Photo- Penn State Harrisburg's Miranda Zeanchock (32) puts back a rebound in the Lions' victory over Wilson. Zeanchock led the Lions with 24 points.By Adam Clay
For The Press And Journal
Amanda Moyer hit the 20-point mark for the first time this season in an important North Eastern Athletic Conference win for the Penn State Harrisburg women's basketball team, 89-72 over Penn State Abington on Sunday, Jan. 27 in Abington.
Penn State Harrisburg started the day in second place in the South Division, with Penn State Abington just behind in third place, setting the stage for a showdown to see who was going to be the leader of this pack of Lions after 40 minutes of basketball . . .


You can read the full story in our printed edition or our e-Edition.