Lester Mathias Jr.
Posted
Lester B. "Bench" Mathias Jr., returned to the Lord on January 29, weeks after celebrating his 90th birthday. He passed peacefully in the company of family and friends.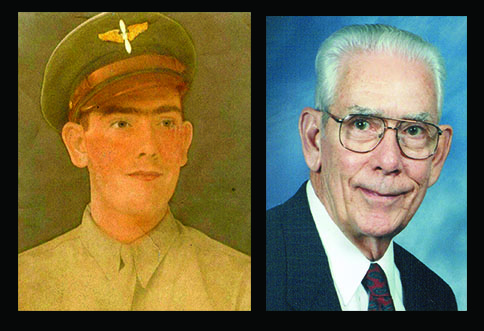 He was born on December 26, 1923 to Lester Mathias and Edna Mae Updegraff in Royalton, and married Frances Beck on September 26, 1942 in Greenville, S.C.


Known to his family as "Pap" and to his friends as "Bench," he was an elder at Kaysville Bible Church. He volunteered at Pioneer Bible Camp and Frontier School of the Bible. He also served on the Board of Directors for the Ogden Rescue Mission. Lester served in the Army Air Force from 1943 to 1945 as an aircraft mechanic and flight engineer at Hondo Army Air Field, Texas. Bench loved to hunt and fish and to study scripture and pray. Verses that shaped his relationship with God were Romans 3:23, 5:8, 6:23, 10:9-10, 10:13, and 12:1-2. "Precious in the sight of the Lord is the death of his saints," Psalm 116:15.
Pap was preceded in death by his wife Frances, his daughter Diane Muth, his son Edward Mathias, his sister Marie Condran, and his brother Charles Mathias.
He is survived by his brother Robert (Margo) Mathias; son Lester "Skip" Mathias III; daughters Carolyn Naylor, Barbara (Steve) Fry, Clare Mathias, and his daughter-in-law Bonnie (Court) Longbrook; grandchildren Morgan Muth, Matthew (Melanie) Naylor, Michael Naylor, Edward (Elizabeth) Mathias Jr., Melissa (Robert) Alles, Charles (Connie) Mathias, John (Keri) Mathias, and Rebecca (Dave) Barlow; great-grandchildren Andrew, Abreanna, Kaleb, Skyler, Katelyn, Sydney, Hannah, Anjali, Asha, Elijah, Diya, Lillian, and Marcus; and he loved and was loved by his extended family, nieces, nephews, grandnieces, and grandnephews, and countless friends.
Funeral services will be held at 11 a.m. on Saturday, February 8, at Kaysville Bible Church, 181 N. Flint St., Kaysville, Utah, where friends may also visit Bench beginning at 9 until 10:45 a.m. at the church.
Interment is at Kaysville City Cemetery, Kaysville, Utah.


In lieu of flowers, his family requests donations be made to Kaysville Bible Church's Missions Fund, Pioneer Bible Camp, or the Ogden Rescue Mission.


Services are entrusted to Lindquist's Layton Mortuary, Layton. Condolences may be shared at www.lindquistmortuary.com.