Lawrence Templin
Posted
Lawrence H. "Temp" Templin, 96, of Hummelstown, passed away on Friday, March 7, in The Middletown Home.
Born in Palmyra on September 17, 1917, he was the son of the late Henry and Mary Brunner Templin.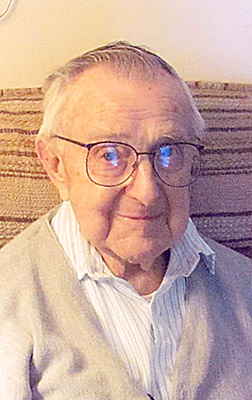 Temp retired from the Hershey Chocolate Company after 40 years of service as a machine operator in the steel rolls department. He served as a part-time police officer in Hummelstown for many years. He was a life member of the Hummelstown Fire Company having been a member for 69 years, and served as their president for 47 years. Temp started calling bingo in 1950 at the fire company and for its carnivals, a duty he truly enjoyed doing until the late 1990s. He was a life member of the Hummelstown Fireman's Relief Association. Temp served for one term on the Hummelstown Borough Council. He was a member of the former Hummelstown Brethren in Christ Church, was a former member of the Loyal Order of the Moose in Annville, and he enjoyed doing crafts.
Temp was preceded in death by his wife of 70 years, Stella K. "Dellie" Yeagley Templin, on May 21, 2007.
He is survived by one son L. Robert Templin, husband of Elaine Criswell Templin of Hummelstown; one daughter Carolyn M. Hosler, wife of Joseph Hosler of Hershey; four grandchildren Pam Deal, wife of Scott Deal of Hummelstown, Scott Templin of Rutherford, Kim Hosler of Saratoga Springs, N.Y., and Kris Hosler of Harrisburg; four great-grandchildren Melissa Fullerton, wife of Ike, and David Deal, husband of Jamie, all of Hummelstown, and Gordon Stoner and Abigail Stoner, both of Saratoga Springs, N.Y.; five great-great-grandchildren Madison Deal, Tytan Deal, Samantha Fullerton, Makayla Fullerton, and Kelsey Fullerton, all of Hummelstown; one sister Mary A. Fach of Middletown; his sister-in-law Mary Yeagley Templin of Campbelltown; and several nieces and nephews.
Funeral services will be held at 11 a.m. on Wednesday, March 12, 2014 at Trefz & Bowser Funeral Home, Inc., 114 W. Main St., Hummelstown.
Interment will be in Hummelstown Cemetery.
Friends are invited to call for a viewing Wednesday from 9:30 a.m. until time of the service at the funeral home.
Those desiring may send memorial contributions to the Hummelstown Fire Company, P.O. Box 312, Hummelstown, PA 17036.
Online condolences may be shared at www.trefzandbowser.com.