LaRea Minnich
Posted
LaRea K. Minnich, 90, of Middletown, entered into eternal rest on Wednesday, November 18, 2015, at Frey Village Nursing Center, Middletown.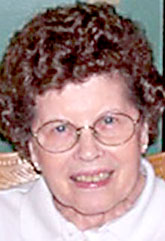 LaRea was born on September 11, 1925, in Summerville, Pa. and was the loving daughter of the late Lawrence and Dorothy (Anthony) Brocius.
She was a member of Mountain View Bible Church, Hummelstown. LaRea was a former waitress at the former Stephanie's 230 Diner, Londonderry Twp. She enjoyed Bible study, gardening, cooking and sewing, but her greatest joy was the love of her family, especially her grandchildren.
In addition to her parents she was preceded in death by a daughter, Marilyn E. Condran, and two sisters Lois Shick and Shirley Brocius.
In addition to her husband Ernest H. Minnich, she is survived by two daughters Karen Minnich-Sadler and husband Tim of Lancaster, and Debbie J. Attick and husband Stanley of York; two sons Larry E. Minnich and wife Kathy of Elizabethtown, and Dennis L. Minnich and wife Jane of Houston, Texas: grandson Kevin L. Condran and his wife Tonya of Middletown, 13 grandchildren; and two great-grandchildren.
A tribute of her life will be held on Tuesday, November 24, 2015 at 11 a.m. at Matinchek & Daughter Funeral Home and Cremation Services, Inc., 260 E. Main St., Middletown, Pa., with the Rev. Dr. Norman Marks officiating.
Burial will be in Middletown Cemetery.
There will be a viewing on Monday, November 23, 2015, from 6 to 8 p.m. at the funeral home, and from 10 a.m. until the time of the service on Tuesday at the funeral home.
Condolences may be sent online at www.matinchekanddaughterfuneralhome.com.