Kathryn McGarvey
Posted
Kathryn "Kay" Dixon McGarvey, 93, of Middletown, passed away on Wednesday, February 19, in the Carolyn Croxton Slane Residence, a Central PA Hospice Home, Harrisburg.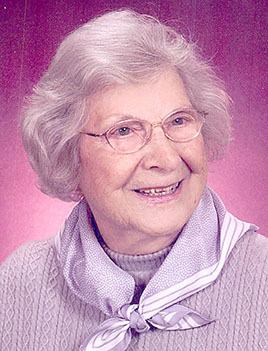 Born in Paris, Ind. on August 12, 1920, she was the daughter of the late Fred W. and Icley Green Dixon.
She retired as a sales manager in the women's wear department of the former John Wanamaker's. Kay was a very active member of her church, Bright Hope Fellowship, Middletown, and took part in a Bible study group. She was a former Girl Scout Leader with the Hemlock Girl Scout Council, and was well known in her early years for her roller-skating. She enjoyed shopping, crafts, being outdoors, and loved to travel, especially to Vermont, Bethany Beach, and Potter County. Kay was an extremely active person her entire life, and often attended Planet Fitness, and she could always be found socializing.
In addition to her parents, Kay was preceded in death by her loving husband Arlington McGarvey in 1987, son David A. McGarvey, daughter Suzanne K. Shimp, and granddaughter Laurie R. Rutt.
She is survived by her daughter Linda J. Rutt of Millsboro, Del.; her two sons Frederick J. McGarvey, husband of Barbara G. of Hummelstown, and James H. McGarvey, husband of Joleé E. of Coudersport; and two grandchildren Lonnie R. Rutt, husband of Christy of New Jersey and their three children, and Michele Wilson, wife of Alan of Lawn and their four children Dylan, Dalton, Conner and Tyler.
Funeral services were held on Saturday at her church, with the Rev. Ray D. Hock, her pastor, officiating.
Interment was in Middletown Cemetery.
Arrangements are being handled by Trefz & Bowser Funeral Home, Inc., Hummelstown.
In lieu of flowers the family has requested that memorial contributions be made to Bright Hope Fellowship, 345 North Deodate Road, Middletown, PA 17057; Castaway Critters, P.O. Box 1421, Harrisburg, PA 17105; or to Hospice of Central PA, 1701 Linglestown Road, Harrisburg, PA 17110.
Online condolences may be shared at www.trefzandbowser.com.