Julianna Sukle
Posted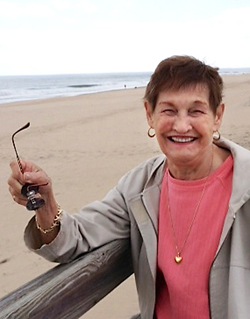 She was born on August 10, 1928 in York County and was the daughter of the late Anthony F. and Anna Hapshmidt Kempf.
She was preceded in death by her husband Joseph G. Sukle Sr., who passed away on September 19, 2009. The couple had celebrated 63 years of marriage.
Julianna is survived by her daughter Bernadene Burdick of Reading; son Joseph G. Jr. and wife Louise Graybill Sukle of Middletown; granddaughters Laura Bradley, wife of Paul Bradley of Honey Brook, and Julianna L. Sukle of New York City; grandson Benjamin J., husband of Heidi Sukle of Providence, R.I.; two brothers C. Bruce of Camp Hill, and Anthony Kempf and wife Chris Kempf of Oberlin Gardens; stepsister Kathleen Deimler of Ocean City, Md.; brother-in-law Frank Sukle of Cranston, R.I.; nieces and nephews Margie Gornik and husband Joseph of Bressler, John Matjasic and wife Nancy of Elizabethtown, Alla Kempf of Oberlin Gardens, Nadia Kempf of Florida, Nancy Jensen of Upland, Calif., Helen Goldie and husband Roy of Littleton, Colo., Robert Sukle and wife Tammy of Littleton, Colo., Joyce Vivenzio and husband Dr. Thomas of Attleboro, Mass., Willadean Kempf, Glen Deimler and Cyndi Deimler of Ocean City Md.; cousins Anthony Fanus and wife Dottie of Chambers Hill, and Dolores Nickels of Harrisburg; grandnieces and nephews; dear friend Helga Hunter of Oberlin Gardens; neighbors Nelson and Mary Ortiz; and her cat Mitzi.
Julianna graduated from Swatara High School and was retired after 14 years of service as an accountant with the PA Department of General Services. She was a member of Saint John the Evangelist Catholic Church in Enhaut, and later the Prince of Peace Church in Steelton.
Some of her enjoyments were cooking (the best potato salad, apple pie, stuffed cabbages, macaroni and cheese, toasted cheese sandwiches with tomato soup, deviled eggs and chicken rice soup), always shopping with her daughter, dining with her son and daughter-in-law, keeping QVC in business, watching basketball and NASCAR, worrying about the grass and trees around her home and the air pressure in the tires in her car, but her greatest joy was the love of her family, especially that of her grandchildren. All will remember the two words she always said when she enjoyed a drink with family and friends - "To life!"
A Memorial Tribute to her will be held at 11 a.m. on Wednesday, July 10, at the Frank E. Matinchek and Daughter Funeral Home and Cremation Services, Inc., 260 E. Main St., Middletown, with her family and friends.
Visitation will be from 10 to 11 a.m. on Wednesday at the funeral home.
Memorial contributions may be made to the Humane Society of Harrisburg, 2790 Grayson Rd., Harrisburg, PA 17111.
Condolences may be sent online at www.matinchekanddaughterfuneralhome.com.