Joseph Naples
Posted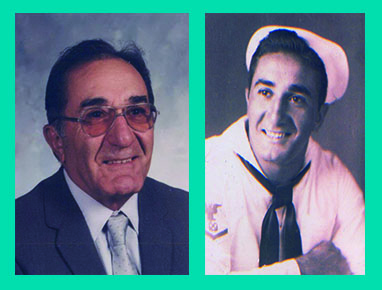 Joseph C. Naples, 90, of The Middletown Home, passed away Thursday, January 23, surrounded by family at the Penn State Milton S. Hershey Medical Center.
Born on November 10, 1923 in Middletown, he was the son of the late Joseph and Maria Morelli Naples.
He was a proud World War II Navy veteran serving aboard the USS Virgo and the USS Coral Sea. As part of the Amphibious he took part in the invasion of several enemy islands including Tarawa, Marshal Island, Guam, Palau, Bougainville, Hollandia, New Guinea, Aitape, and again in New Guinea. Joseph was awarded medals for the American Campaign, Asiatic Pacific Campaign, Victory World War II, Occupation Service and China Service. He retired from New Cumberland Army Depot as an equipment mechanical foreman; was a member of Seven Sorrows BVM Catholic Church, Middletown, National Retired Federal Employees (NARFE), American Legion Post 594 and Cumberland Valley Volunteer Fireman's Association; he was a longtime volunteer firefighter and member of the Middletown Fire Department, as well as D.A.V. and the Conewago Rod and Gun Club; and he was an avid angler, hunter and gardener.
In addition to his parents, Joseph was preceded in death by his loving wife, Winifred "Winnie" J. Bowers Naples, on September 24, 2012, sisters Minnie Penna (Sam) and Mary Olsen (Arthur), and brother Frank Naples (Joan).
He is survived by two daughters Wanda M. Jonsen of Vancouver, British Columbia, and Lynne M. Sjoberg (Roger) of Tarpon Springs, Fla.; two sons Joseph M. Naples (Arlene), and David A. Naples (Deb), all of Middletown; 10 grandchildren; two great-grandchildren; and a sister-in-law Joan Naples of Dillsburg.
A Prayer service was held on Monday, January 27 at Trefz & Bowser Funeral Home, Inc., Hummelstown, with the Rev. Fr. Edward J. Keating officiating.
Interment with military honors was in Woodlawn Memorial Gardens, Lower Paxton Township.
In lieu of flowers, the family requests that donations be made to The Middletown Home, 999 West Harrisburg Pike, Middletown, PA 17057; to Middletown Fire Department, 10 Adelia St., Middletown, PA 17057; or to Seven Sorrows BVM Catholic Church, 280 North Race St., Middletown, PA 17057.
Online condolences may be shared at www.trefzandbowser.com.