Jeanne McKinney
Posted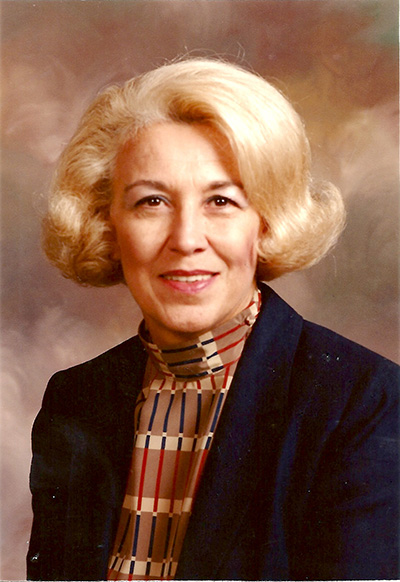 Jeanne Elizabeth McKinney (nee Rice), realtor, businesswoman and a longtime resident of Middletown, died on Friday, September 26, at the age of 87.
Jeanne was born in Selinsgrove to the late William O. and Mary Freed Rice, and was a graduate of Selinsgrove High School and Beauty School in Philadelphia. She was always proud of her Snyder County roots, tracing her lineage to the Middleswarth family who arrived in America in 1690. She married Jackson Wallis McKinney after his return from serving in World War II under General Patton's Infantry. He suffered a combat injury and was awarded The Purple Heart. Upon their move to Middletown, she followed her love of hair design and fashion, opening up a beauty parlor and Jeanne's House of Fashions in her home. Always stylish and cutting edge, she had a loyal following. Upon Jack's untimely death at the age of 46, she found herself entering a new chapter as a realtor.
In the early '70s there were few women in the real estate business, and after completing her licensure to become a realtor, she affiliated with Mary K. Vandenberg Realtors in Harrisburg. Jeanne really found her niche, she loved finding a couple their first house, which led to moving up to the next house. She was passionate about real estate, working tirelessly day and night for her clients. Jeanne teamed up over the years with many companies to include Detweiler, Coldwell Banker and others. She accumulated her own portfolio of properties to include multi-unit buildings, historically significant properties in Middletown, and a cottage in Mount. Gretna.
Along with real estate, Jeanne had entrepreneurial endeavors to include Concepts Unlimited, an upscale hair design business in Harrisburg. Her main interest was always her children and family. Her home was always a central place for family and friends to get together. Her cooking and attention to detail always made for a memorable occasion. After retiring from real estate, Jeanne, as Jeanne would be, purchased a property in Florida and did it alone for a while, experiencing life for herself. After her return, she devoted her energies to her children and grandchildren, for which they are richer for it. Jeanne was also a member of DAR, Eastern Star, Middletown Historical Society, and Queen Esther Class at St. Peter's, among other many other interests.
She was the love of the late Jackson Wallis McKinney who died on October 3, 1971. Jeanne was the wonderful, caring and devoted mother of Dennis A. McKinney (Linda), Maureen McKinney Higgins (Joe), Rodger F. McKinney (Lauren), and the late Jack Craig McKinney; cherished grandmother of Jason, Joshua, Patrick, Courtney, Andrew, Jason and Jessica; seven great-grandchildren; loving sisters-in-law, Judy Wile (Dave), and Judy Billow; and many nieces and nephews.
Her Funeral service will be held at 10:30 a.m. on Saturday, October 4, in St. Peter's Lutheran Kierch, corner of Union and High Sts., Middletown, where the family will receive guests after 10 a.m. Her burial will follow in the family plot in Liverpool.
In lieu of flowers, contributions may be made in her memory to the Benevolent Care Fund at Frey Village, 1020 N. Union St., Middletown, PA 17057.
Arrangements by Chadwick & McKinney Funeral Home Inc., Ardmore, Pa. www.chadwickmckinney.com.