Janice Forney
Posted
A memorial service for Janice M. VanFossen Forney is being held on Saturday, February 8 at Faith Outreach Church, at 3 p.m. The church is located at 100 Brown St., Brown St. Mall, Middletown.


In lieu of flowers donations can be made to the church.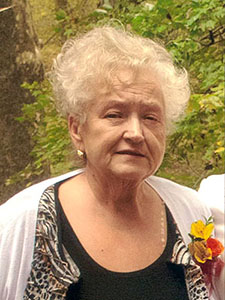 Janice M. Van Fossen Forney, 69, of Elizabethtown, entered into rest on Saturday, December 21, at home.


She was born on August 11, 1944 in Nanticoke and was the daughter of Mildred Fink Van Fossen of Middletown and the late John E. Van Fossen, who preceded her in death on December, 17, 2013.


She attended Faith Outreach Center Church, Middletown; she was retired from the State Capital Police where she worked in the State General Services Department; and she enjoyed shopping, going to Ocean City on the Boardwalk, cruising and traveling. Janice's greatest joy was the love of her family and her grandchildren.
In addition to her father she was preceded in death by her husband James H. Forney Sr., and son-in-law Anthony James Kinsey Sr.


She is survived by three daughters Anne D. Forney Kinsey of Middletown, Michelle L. and husband Brad Freet of Elizabethtown, and Renee M. and husband Dean Johnson of Middletown; two sons James H. Forney Jr. of Eastport, N.Y., and Danyell S. and wife Stephanie Forney of Bressler; grandchildren Anthony James Kinsey Jr., Johanna Forney, Sierra Forney, Mirranda Forney, Lilliana Forney, Dana Forney, Ellory Forney, Magnus Forney, and Aderyn Forney; brother John "Jack" and wife Lorraine Van Fossen of Ocean City, Md.; and sister Jill A. Myers of Fenwick, Del.


Memorial services and inurnment will be at the convenience of the family.


Arrangements by Matinchek & Daughter Funeral Home and Cremation Services, Middletown.


Condolences may be sent to the Forney family at www.matinchekanddaughterfuneralhome.com.