James Diffenderfer Jr
Posted
James "Jimmy" Lewis Diffenderfer Jr., 75, of Dalmatia, passed away with family by his side on Tuesday, December 1, 2015 in the Middletown Nursing Home.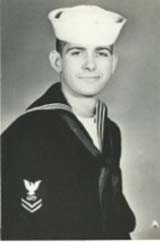 He was born Thursday, October 17, 1940 in Shippensburg to the late James Lewis Sr. and Mary Elizabeth (Frohm) Diffenderfer.
Jimmy graduated in 1959 from Hershey High School. He served on the U.S.S. Midway in the United States Navy. He retired from Bethlehem Steel. Jimmy was a former racecar driver and enjoyed spending time watching the wildlife and living on his farm.
He is survived by his wife Nancy Louise (Lesher) Diffenderfer; a son James L. Diffenderfer III and wife Kimberly; two daughters Susan Fisher, and Jodi Diffenderfer-Lenker and husband Chris; five grandchildren, Wyatt Diffenderfer, J.P. Lenker, Dustin Fisher and wife Natasha, Kristin Fisher, and Autumn Wehry; three sisters Mary Geesey and husband Ronald, JoAnn May and husband Ronald, and Francis Light and husband Gene; and two aunts Beatrice Hughi, and Peggy Erdman; and many nieces and nephews.
A memorial service will be held after the holidays. Please check www.fager-finkenbinder.com for service details and to share memories and condolences.
In lieu of flowers, memorial contributions may be made in his honor to the American Cancer Society, P.O. Box 867, Hershey, PA 17033.