Injured vet gets house
Posted 8/13/13
A year ago, a grassy patch of land sat along Morgan Drive, an empty plot about to be transformed into a wounded warrior's dream home – and his dream for a normal life.As Dennis Leonard, an Army sergeant who lost both legs in an IED explosion …
Injured vet gets house
Posted


He found out on Wednesday, Aug. 7, when he was presented the keys to his new home in Lower Swatara Twp. by local officials and a national charity.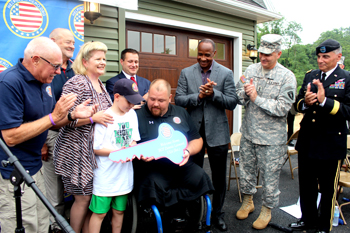 Press And Journal Photo by Noelle Barrett- Surrounded by dignitaries, injured veteran Dennis Leonard, center, and his son, Ethan, hold a ceremonial key to their new home.

The new house is custom built to fit Leonard's needs, including an elevator and a roll-in shower for his wheelchair. "Amazing,'' is how Leonard describes it. "More than I could ever ask for.''

The house is the first home that Helping a Hero, a Houston, Texas nonprofit that provides support to severely injured military personnel, has completed in Pennsylvania.

Leonard was injured in Iraq on Jan. 13, 2007, when a mission to clear a route of bombs turned into something that would change everything.

An IED blast rocked his tank, killing Leonard's tank commander and seriously injuring Leonard. The details remain fuzzy for Leonard, but waking up in a field hospital and finding he had lost both of his legs remains clear.
Since then, it's been a struggle to return to normalcy. Leonard had lived with his parents, relying on them for assistance, and while they made changes to their home, such as adding ramps, the accommodations weren't enough to give Leonard an independent life.

That has changed with his new house.

Each Helping a Hero house costs around $250,000, with $50,000 paid by the veteran and $100,000 raised through a community organization. Bob Egley and Don Jacobs, with the help of Mechanicsburg North Rotary and Carlisle Rotary clubs, raised the $100,000 through a golf tournament. Donations of labor and supplies also helped to make the dream home come to fruition, particularly help from Deimler and Sons Construction.

Everyone involved was represented at the Aug. 7 ceremony, along with Meredith Iler, the founder of Helping a Hero; Army Maj. Gen. Tony Cucolo; retired Pittsburgh Steeler player Lynn Swann; and many community members, as well as Leonard's friends and family.

And while many praised Leonard for his sacrifice and courage as a hero, Leonard was thankful, humble and too overcome with emotion and gratitude to speak.
---

"I'd like to thank my family. Without them, I wouldn't be here," Leonard said as he broke into tears.

The home, while a huge gift for Leonard, is just a small thanks from others for serving his country.

Some who spoke during the ceremony, including Cuculo reminded the audience of the cost of war, one that Leonard already realizes.
"Freedom is not free," Cucolo said.
"Dennis is not asking for a whole lot. He's just asking for an opportunity to live his life as best he can coming back after his great sacrifice," said Swann.

And this home is that opportunity.

Leonard made several trips to the property since construction began earlier this year, and watched the house slowly become his home over that time. But during the two weeks before the ceremony, Leonard wasn't allowed to enter the home as its transformation into his dream house happened.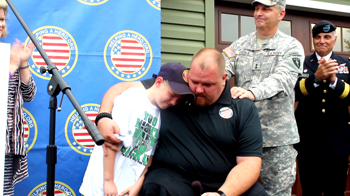 Press And Journal Photo by Noelle Barrett- Dennis Leonard and his son, Ethan, 8, at their new home. The ceremony was the first time Leonard saw the finished kitchen, and his emotions overcame him. Counters and cabinets at wheelchair level may seem like a small touch to some, but it's something that is life-changing for Leonard.

It's not just a home, but a new lease on life.

Now that Leonard has moved in, he doesn't have to struggle to do things that were once easy.

"It doesn't limit me. I can do whatever I want, whenever I want," said Leonard. "I don't have to rely on anybody."
The home is equipped with necessities, including a roll-under sink, adapted toilet area and safety exits, including one outside his bedroom.

But there are also some fun surprises. Upstairs, his son Ethan has a space of his own, already clad in Steelers décor. A smile crept across Leonard's face when he saw Ethan light up as he eyed a Pittsburgh Steelers jersey, autographed by player Troy Polamalu, hanging on his wall.
"That was probably one of the best parts of the day, seeing that," said Leonard.

The home will not only help Leonard live day to day, but also rebuild his life and a future. In the basement, there is open space, where Leonard hopes to use for a gunsmith business he dreams of starting. The home, on the outside, looks like any other home, but on the inside, it gives Leonard the chance to dream again.

"I'd just like to say thank you to anybody that had any part of it, or that showed their support," said Leonard. "Without them, none of this would have happened."
Noelle Barrett: 717-944-4628, or noellebarrett@pressandjournal.com