In Memory of John Novak
Posted
John Novak, 92, of Lititz, Pa., passed away on Thursday, July 21, 2016.
He was the son of the late John Novak Sr. and Hilda Mae Lesser Novak.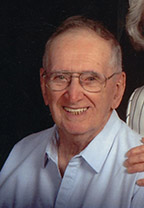 Mr. Novak is survived by his three daughters, Marie, wife of Terry Ebersole of Lancaster, Pa., Clare Novak of Chester Springs, Pa., and Jackie Stouffer of Tampa, Fla., as well as two grandchildren, Dr. Kristie Berkstresser, wife of Kyle Berkstresser, and Adam Ebersole, all of Lancaster, Pa.

He was preceded in death by Rita Shrader Novak, his wife, who passed away in 2005, as well as his sisters, Janice, and LeAnn Novak Yaworski (Steve Yaworski Baker, Fla).

John was born April 15, 1924 in Freeland, Pa., served in the Army Air Corp during World War II as a hydraulics specialist and aircraft mechanic, attaining the rank of Staff Sergeant.
He continued his career working at the Olmsted Air Force Base in Middletown, Pa. and then at the Defense General Supply in Richmond, Va. John extended his love of aircraft as an avid hobbyist: building, collecting and flying model airplanes competitively. His extensive interests included railroads, photography, fishing, history and reading.

Mr. Novak will be laid to rest at Indiantown Gap National Cemetery, Annville, Pa. on Wednesday, July 27, 2016 at 11:30 a.m. Those wishing to attend please meet at the funeral home on Lititz Pike by 10:15 a.m. to process to the cemetery. The best memorial is to choose a fine day with a light breeze and remember, "It's a good day for flying."

In lieu of flowers please support Hawk Mountain Sanctuary, 1700 Hawk Mountain Rd., Kempton, PA 19529, or Disabled Veterans at donate.dvnf.org.

Arrangements by Charles F. Snyder Jr. Funeral Home & Crematory, Lititz.

To send an online condolence, please visit SnyderFuneralHome.com.
{jcomments on}