H. Arlene Long
Posted
H. Arlene Long, 92, of Middletown, entered into rest on Tuesday, January 14, at Penn State Milton S. Hershey Medical Center.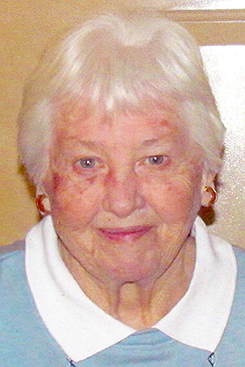 She was born on May 19, 1921 in Gowen City, and was the daughter of the late Jesse D. and Nancy Engle Smink.


She was a member of St. Peter's Evangelical Lutheran Church, Middletown; was a volunteer for Meals on Wheels; was a member of Londonderry Senior Citizens; and she enjoyed crocheting, but was best known for her cooking skills.


In addition to her parents she was preceded in death by her husband Francis Long who passed away on January 13, 1981, grandson Robert Long, two sisters Catherine Weikle, and Ivy Reidinger, and three brothers Lamar Smink, Marvin Smink, and Raymond Smink.


She is survived by her son Robert and wife Wanda Long of Maytown; daughter Yvonne and husband Rodney Wagner of Middletown; one granddaughter Cindy, wife of Todd Dodge; three grandsons Jon, husband of Kris Myers, Ronald, husband of Peg Long, and Tommy Long, fiancé of Rebecca Rutherford; five great-granddaughters; seven great-grandsons; and two great-great-grandsons.


Funeral services were held on Monday at her church, with the Rev. Dr. J. Richard Eckert officiating.


Burial was in Middletown Cemetery.


Arrangements by Matinchek and Daughter Funeral Home and Cremation Services, Middletown.


Memorial contributions in Arlene's name may be made to St. Peter's Evangelical Lutheran Church, Spring and Union Sts., Middletown, PA 17057.
Condolences may be shared at www.matinchekanddaughterfuneralhome.com.