GOT 'ER DONE: Strong second half leads LD over Wildcats, 38-21
Posted 10/14/14
After a half filled with highs and lows, missed opportunities in the red zone and a missed defensive assignment that led to the opponent's first touchdown, Lower Dauphin Coach Rob Klock issued this halftime message to his team in the locker room: I …
GOT 'ER DONE: Strong second half leads LD over Wildcats, 38-21
Posted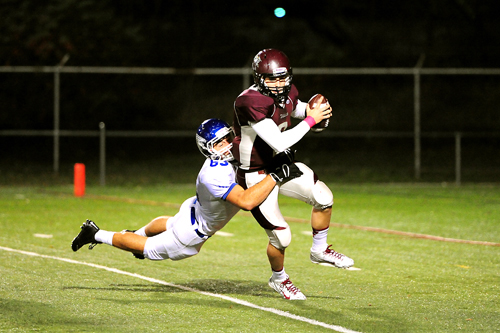 After a half filled with highs and lows, missed opportunities in the red zone and a missed defensive assignment that led to the opponent's first touchdown, Lower Dauphin Coach Rob Klock issued this halftime message to his team in the locker room: I am feeling frustrated.
Frustrated that offensive drives stall and scoring opportunities slip away. Frustrated that each defensive mistake seems to result in the ultimate football punishment: A touchdown by the opposition. Frustrated that his Falcons only led Mechanicsburg by three points, 17-14, at the half.
"I thought we were better than three points better than that team,'' Klock said. "We really should have had two more touchdowns. We need to wake up and find some consistency.''
The Falcons did awaken in the second half, scoring two touchdowns in the third quarter by mixing an effective passing attack with a strong running game to subdue the Wildcats, 38-21 on Friday, Oct. 10 in Mechanicsburg.
For the full story, CLICK HERE to subscribe to the Press And Journal.