George McKinney
Posted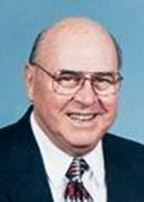 {jcomments on}
George H. McKinney, 88, of Middletown, entered into eternal rest on Tuesday, June 30, 2015, at the Hershey Medical Center.
George was born in Columbia, Pa. on September 25, 1926 and was the son of the late George L. and Elizabeth M. Marter McKinney.
George served in the United States Navy during World War II on the USS Prince William in the Pacific Theater. He was a former member of Wesley United Methodist Church, Middletown, and worked for the federal government at Letterkenny Army Depot, Chambersburg Pa. George enjoyed traveling, going to casinos and ceramics.
In addition to his parents, George was preceded in death by his loving wife of 64 years, Greta Jean McKinney on February 13, 2015.
He is survived by his four nieces, Ruby Zeager of Elliottsburg Pa., Linda Foster of Richland Pa., Sandy Ort of Batavia Ohio, and Nancy Schenk of Pittsburgh Pa.; and several other nieces, nephews and cousins.
Memorial services and inurnment will be at the convenience of the family.
The family has entrusted the care of the Matinchek & Daughter Funeral Home and Cremation Services, Middletown, to handle the funeral arrangements.
Condolences may be sent online at www.matinchekanddaughterfuneralhome.com.