Flute Circle: Soothing sounds of the soul waft monthly over Indian Echo Caverns
Posted 3/19/13
The first time Bob Jones played the flute it was far less than soothing and symphonic.Recognizing defeat, he hung the wooden, cylinder-shaped instrument on a wall in his Mechanicsburg home, where it received aesthetic admiration and collected dust …
Flute Circle: Soothing sounds of the soul waft monthly over Indian Echo Caverns
Posted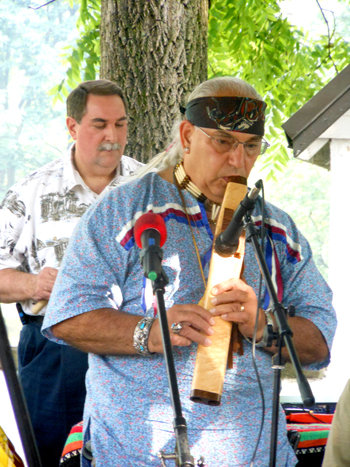 Bert "Sunbear" Brooks, above, plays his instrument, while Mark Zagursky plays percussion behind him. Now he plays from the heart along with other Native American flute players at a gathering each month at Indian Echo Caverns in Hummelstown.

The local gatherings began when Mark Zagursky, of Harrisburg, started the Pennsylvania Native American Flute Circle after purchasing a flute on a cross-country trip.

"There really wasn't any Native American music that I was aware of," said Zagursky. "Usually if I can't find something that's already existing, I like to start something."

At first, the group was only two members, Zagursky and Sterling Green, of Hershey. Eight years later, the group has grown to around 80 members.

Usually the flute circle brings 20 to 30 players, some from central Pennsylvania and others traveling from farther away - some from out of state.

Each player has their own story and reason for picking up a flute.

Green didn't always have an interest in playing a Native American flute. He was mostly interested in playing the didgeridoo, an Australian wind instrument.

That all changed when he heard one man play during a flute gathering in Maryland.

"After I heard this gentleman get on stage, it touched my heart and it made me cry," said Green. "It was so powerful what he was playing. It was really affecting me. I just fell in love with that sound."
That's the same type of emotion the flute circle aspires to bring out in others.

Looking around, some may appear asleep – they are relaxed, their eyes closed, That's the best sight for the flute player, said Zagursky.

"They turn off one of their senses, their vision. They close their eyes, and they take all the music in," said Zagursky. "We know we're connecting with people when we do that."

"When I play, I notice people close their eyes, and I'm assuming they go to the same place I go to when I play," said Jones.
---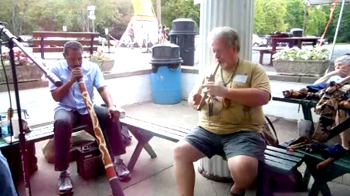 Sterling Green, left, plays a didgeridoo as Bob Jones, right, plays a flute.Sometimes the players themselves will close their eyes as they create a stream of music.

As the notes begin to flow, other players join in, accompanied by drums, rattles and other Native American percussion instruments.

"I enjoy that every flute player has a different style," said Zagursky. "Typically, we don't play written music . . . They're playing what's inside of them. They're playing at that moment, creating a song and playing it."

Some of the members never play. The relaxed atmosphere is why so many of them come back.

At first, Jones was nervous to play, but the group's encouragement made him feel comfortable.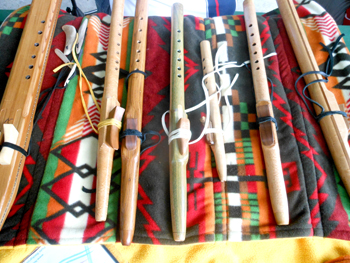 "I was hesitant to do it," he said. "I didn't want to make a fool of myself, so I played some little thing over and over that I played at home ... After that, I was not afraid to try new things."

Just as flute players play different songs, they come from different walks of life.

"What I like is the diversity of all the different people, and how different everyone is and how much the same we are at the same time," said Green, who works for the Pennsylvania State Police as a custodial worker supervisor.

There are contactors, laborers, medical professionals, housewives, engineers, along with many other professions, but none of that matters.

"When we get together, we know everything we need to about each other," said Jones, who is a case manager for an addiction treatment center.

After all, the members come together for the music. They stay for the friendship.

"It's all part of relieving the day-to-day stress, and just kind of escaping and going on that flute journey with the person who is playing because they are traveling on the same flute journey that they're bringing you along . . . they don't know where the path is going," said Zagursky.

The flute players support each other, and also lend a helping hand.

Ronald Lott, of Palmyra, has taught many of the players how to make their own flutes.

"It's just a nice group of people. You just couldn't ask for a better group of people to be around," said Green.

The flute circle meets the second Sunday of every month at Indian Echo Caverns. Readers can find more information at the website http://www.paflute.com.
Noelle Barrett: 717-944-4628, or noellebarrett@pressandjournal.com