Final chapter: The club that created Middletown's library gives it one last check
Posted 12/11/12
By Daniel WalmerPress And Journal Staff
In 1926, the Middletown Women's Club embarked on a project that has enriched the lives of many Middletown residents for decades: It created the Middletown Public Library.
Eighty-six years later, the …
Final chapter: The club that created Middletown's library gives it one last check
Posted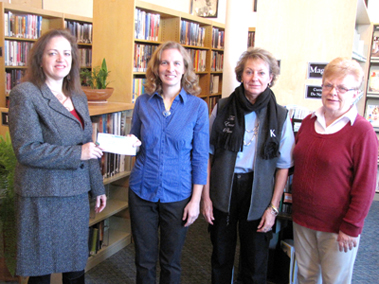 Press And Journal Photo by Daniel Walmer- The Middletown Women's Club gave the last of its savings to the Middletown Public Library, which it created 86 years ago. Presenting a check for $3,700 to the library are, from left to right, Sheri Brandt, club treasurer; library director Christine Porter; Brenda Klocko, the club's past president; and Sandy Robbins, club member and library trustee."I'm overwhelmed, and very, very grateful," said library director Christine Porter. "We very much appreciate the donation."
Middletown Borough Council voted in October to eliminate the library as a department of the borough, instead establishing it as a separate nonprofit organization. The library is in need of funding, so the Women's Club sees a certain poetry in using its last funds to help the library it started continue to thrive.
"We decided it was a good thing to end with the library and support their efforts," said Sandy Robbins, a club member and library trustee. "It's always been a pet project of the Women's Club."

The club was founded in 1898 and focused on social projects such as the library, scholarships for nursing and health students, and otherwise helping people in need, she said.

The club is dissolving due to a lack of members.
Daniel Walmer: 717-944-4628, or danielwalmer@pressandjournal.com