Family hospitalized after Middletown fire, community collecting donations
Posted 10/26/13
A family of six was hospitalized and displaced after a fire destroyed their Middletown home in the early hours Saturday morning.
Dauphin County and Pennsylvania State Police fire marshals are currently investigating the blaze to …
Family hospitalized after Middletown fire, community collecting donations
Posted
Crews were called to the house in the first block of State Street around 1 a.m. on Oct. 26, according Middletown fire chief Ken Whitebread Sr.
Photos by Don Graham
Firefighters from several departments including Middletown, Londonderry Twp., Lower Swatara Twp., Highspire, Steelton, Swatara Twp., Hummelstown and Elizabethtown worked for about an hour to bring the blaze under control.
"We had a total of 51 people from the departments on scene working, which I think for a Friday night into Saturday is a tremendous attribute to the volunteers in our area," Whitebread said.
"There was heavy fire on the first floor, and there was fire coming up on side toward another property when our units got there," Whitebread said. "We had hot spots in [the structure], and trying to get to them was a little difficult because the second floor wasn't stable."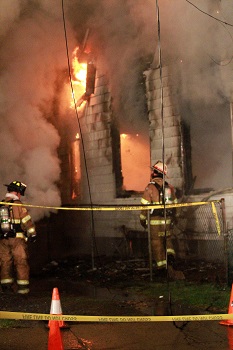 South Central, Londonderry Township, and university EMS was also on scene treating multiple burn victims. Six people, including George and Heather Radabaugh, and their four children, ages 7, 12, and 14, and 18 were transported to the Hershey Medical Center.
The two adults were flown Via LifeLion from Hershey to the Lehigh Valley Burn Center with serious burns, Whitebread said. Three children were also transported to the burn center by ambulance with less serious injuries.
George and Heather Radabaugh will have to receive skin grafts and will remain hospitalized for at least a month, according to family friend Beth Stump.
The family dog perished in the fire, and the 2.5 story single family home is destroyed, Stump said.
"It's a total loss. They lost everything," Stump said. "One of the football coaches found a photo album on the sidewalk he is going to try to [restore]."
Stump said she is unsure where the children will be staying while the parents are hospitalized, but has already started helping the family to recovery.
Stump has set up a group on Facebook called Rally for the Radabaughs to collect donations for the family.
So far, there has been an outpouring of support for the Radabaughs, who Stump described as a loving family, that's involved in the community and would help anybody in need. The mother is a bus driver for the Middletown Area School District.
"The support is awesome," Stump said. "I never expected the outcome and outreach that I was going to get. It's great."
Stump said the family is in primary need of clothing, monetary donations, and gift cards. The sizes of clothing needed include:

Men's: pants- 36x34, 32x34, 32x30, 30x30; shirts- small, medium, large, and 2X; shoes- 10.5, 9, 9.5, 7

Women's: pants- 14 or 16; shirts- L or XL; shoes- 9

Girls': Shirts and pants- 10; shoes- 1

Donations can be dropped off 113 Elmwood Drive in Middletown.

For more information, contact Beth Stump at 717-343-0245 or bs5303@aim.com

DONATE:
-GiveForward Campaign- Donate funds online by clicking here

Items needed:
-Monetary donations
-Gift Cards
-Clothing
The sizes of clothing needed include:
Men's: pants- 36x34, 32x34, 32x30, 30x30; shirts- small, medium, large, and 2X; shoes- 10.5, 9, 9.5, 7
Women's: pants- 14 or 16; shirts- L or XL; shoes- 9
Girls': Shirts and pants- 10; shoes- 1

OTHER PLACES ACCEPTING DONATIONS
-Royalton and Highspire United Methodist Churches taking donations
-GIANT Foods in Middletown- accepting donations (clothing and monetary) at the service desk
-Middletown Youth Club: Monday, Oct. 28-Wednesday, Oct. 30 from 5:30-7p.m. at the practice field concession stand
-Midtown Pizza will have a donation bin

EVENTS/FUNDRAISERS
-Saturday, Nov. 2: The Blue Room benefit dinner- percentage from food will go to the family
-With Kidz In Mind is selling "Raiders United" t-shirts. $6 from each shirt will go to the family. With Kidz In Mind FB Page