EVERYONE SCORES: Every Roller tallies in a 112-26 thumping of Veritas Academy
Posted 2/26/13
Scoring a season-high 112 points felt good, but knowing all of the players on the bench had a hand in the team's success sweetened Steelton-Highspire's 112-26 victory over Veritas Academy in a District 3 Class A quarterfinal game on …
EVERYONE SCORES: Every Roller tallies in a 112-26 thumping of Veritas Academy
Posted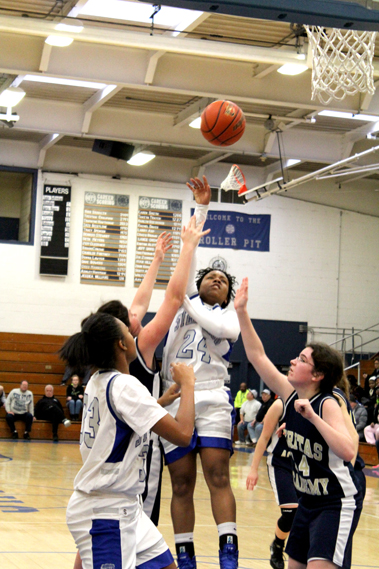 Press And Journal Photo by Noelle Barrett- Marlin Sanchez, (24) a junior, scored 10 points and made five steals during Steel-High's victory against Veritas Academy.The Rollers came out of the gate with fire. Blanding slammed two shots from downtown in the first minute of the game to give Steel-High a 6-0 lead.

Veritas Academy had little opportunity to make a move, as Robinson made a steal and barreled down the court with little opposition on a layup with 6:29 left.

Monica McGrath made a free throw to put the Monarchs, from Leola, on the board, but the end to one Roller scoring streak only meant another one would begin.

Tate-DeFreitas hit two free throws, and as quickly as the Monarchs rebounded, Steel-High stole. Robinson swiped the ball at the basket, and sank an effortless shot.

Then Blanding made a steal and quickly passed to Robinson for a bucket. Robinson returned the favor with a steal and pass to Hess-Moore for 2 points as the Rollers increased their lead to 16-1.

Hannah Kline would score a basket with 4:52 left in the first quarter for the Monarchs, but Veritas Academy wouldn't see points on their side of the board for the remainder of the period.

Robinson made some quick moves, stealing the ball and getting it to Tate-DeFreitas, who sank a shot that started her personal 13-point scoring streak.

With the Rollers holding a 29-3 lead, Steel-High's Ceani Beaden, Marlin Sanchez and Genesis Lozada each tacked on 2 points, extending the lead to 35-3 after one quarter.

All hands were on deck in the second quarter for Steel-High, as Coach Jeffrey Chilsolm rotated underclassmen into the game. Roller starters continued to keep things rolling with a basket by Tate-DeFreitas. Veritas' McGrath answered with a bucket, making the score 37-5.

But Blanding and Hess-Moore each added a 3-pointer to raise the Roller lead to 43-5. After Veritas Academy tallied 4 points, Beaden tacked on a bucket, making the score 45-9, before the Rollers buried the Monarchs with 17 unanswered points.
---

Blanding, Hess-Moore and Jazmine Gorham each sank a 3-pointer, and Tate-DeFreitas and Robinson added a bucket in the 2:30 streak to build the Roller lead to 62-9.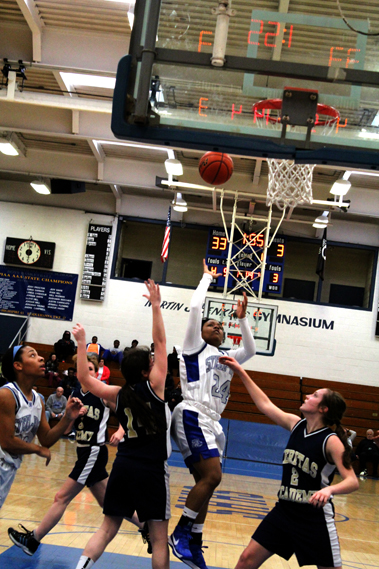 Press And Journal Photo by Noelle Barrett- Malia Tate-DeFreitas (0) scores a lay-up off of a steal. Tate-DeFreitas scored a game high 32 points for the Lady Rollers. With Steel-High dominating the court, the Monarchs were only able to squeak out three free throws during the remainder of the second quarter.

A more-than-comfortable 68-12 halftime lead wasn't enough to slow down the Rollers, however. Veritas Academy put forth a lot of effort to keep up with the Rollers, but Steel-High continued to dominate.

In the third quarter, the Rollers continued to work together to keep possession of the ball. Blanding stole the ball before the Monarchs could leave the Rollers' side of the court, and passed to Hess-Moore, who scored a basket.

The Rollers' quick-paced nature took over, as Tate-DeFreitas made another steal and pass to Blanding for 2 points. Tate-DeFreitas added a basket with an assist and steal by Robinson, and Steel-High led, 78-16.

As the Monarchs gained inches, the Rollers added miles.

Two free throws by McGrath barely put a dent in Steel-High's 15-point scoring streak, leaving the Monarchs trailing, 85-18, with 3:55 left in the third.

McGrath added a bucket, but there wasn't much the Monarchs could do. Beaden and Tate-DeFreitas sank a shot a piece, as Steel-High rolled closer to a season high score, 92-10, in the third.

Things moved quickly as Miyah Viera swiped a Monarch's pass and got the ball to Tate-DeFreitas. An assist by Tate-DeFreitas to Blanding added 2 points, and once again Blanding stole the ball and handed a fast pass to Tate-DeFreitas for a basket.

Blanding tacked on a free throw and with a rebound and basket by Robinson, as Steel-High reached the 100-point mark with 47 seconds left in the third.

The final basket of the third quarter by Veritas' Abby Pickel would turn out to be the last points the Monarchs would score in the game.

Scoring slowed down in the fourth period, but the Rollers continued to control the game.

Steel-High bench players stepped it up on both offense and defense, leaving Veritas Academy scoreless.

The Rollers' Sanchez broke the ice with a basket, followed by a shot from I'janique Simmons. There were mistakes on both sides, but Sanchez got Steel-High back on track with another bucket that gave her team an 80-point lead, 106-26, with 4:06 left in the game.

Malani Tate-DeFreitas made a basket to raise the Roller lead to 108-26 before the starters would return to the court in the final minute. Malia Tate-DeFreitas made two assists to Robinson's two baskets to end the rout.

It was a game that was filled with a lot of Roller stars, and Chisolm was proud to see all of the players rise to the occasion.

"We haven't had the whole team together in the last two weeks with injuries, discipline problems, funerals. It felt good," he said. "It was a whole team effort. Everyone did their job."

For Beaden, who missed a few games to attend a funeral, it was a nice way to return to her second family.

"It's not all about the scoring, so it felt good just helping our team out," said Beaden, who added a team high seven rebounds. "I missed it."

Chisolm said the team would work on defense in preparing for the PIAA state tournament, and the players plan to step up their game too.

"We realized we got to know our role," said Robinson. "I've never been to the Giant Center, so I'll really have to step it up."
---
---
Noelle Barrett: 717-944-4628, or noellebarrett@pressandjournal.com