Eric Dudick
Posted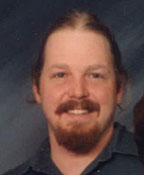 Eric David Dudick, 43, of Mechanicsburg and formerly of Middletown, entered into rest on Thursday, July 16, 2015 at Harrisburg Hospital.
Eric was born in Harrisburg and was the loving son of David E. Dudick of Mechanicsburg and Brenda Herneisey Dudick of Middletown.
Eric was a graduate of Middletown High School class of 1990. He was a machinist by trade and a former employee at Sterling Machine Technology, Palmyra. Eric was a former white water guide on the Colorado Grand Canyon and he enjoyed kayaking, snowboarding and backpacking. He was a Vanagon Volkswagen enthusiast, and an accomplished musician. He was also a member of the Fraternal order of Eagles in Seattle, Washington.
In addition to his parents, he is survived by his maternal grandparents Neal and Christina Ennis Herneisey of Middletown; uncles Bradley and wife Debbie Herneisey, and George and wife Lee Ann Herneisey of Middletown.
A memorial service will be held at the convenience of the family.
The family has entrusted the Matinchek & Daughter Funeral Home and Cremation Services of Middletown to handle the arrangements.

{jcomments on}