Edward Craig
Posted
On July 25, 2016, Edward E. Craig joined his loving wife, Judith Craig of over 50 years, in eternal bliss.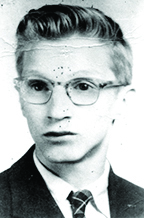 He was born on July 13, 1941 in Carlisle to the late Edward Craig and the late Virginia Long.

Edward and Judith were high school sweethearts who went on to have two children, the light of his eye, a daughter, Terri L. Ellison, and a son who shared a special birthday with him, Edward E. Craig Jr., both of his children who are still in Middletown.
Over the years his family continued to grow to a daughter-in-law, Jill Craig, four grandchildren, Jennifer L. Heisey (spouse: Douglas Heisey), Rodney L. Craig, Heather M. Ellison, Amanda J. Ellison, and three great-grandchildren.
He not only leaves his children, grandchildren, and great-grandchildren, he is also survived by a brother Robert Craig and his wife Gail of Lewisberry, a sister Vicki Eshleman of Halifax, and lots of nieces and nephews. In addition to his parents he was preceded in death by a sister, Phyllis Craig.

He retired from the maintenance department of the Patriot News after 37 ½ years. Edward was a member of the Lower Swatara Twp. Fire Co., a member of the Dauphin County Fire Police Association, PA Fire Police Association, and was a Captain and Lieutenant of the Middletown Fire Police. He enjoyed his retirement by going back to work making coffee and socializing at Turkey Hill for 10 years. He was an active congressional member of the Royalton United Methodist Church. He graduated from William Penn High School.

He was a man who lived and loved, especially breakfast. He was always on the go and would've given anyone the shirt off his back if they needed it. He will be greatly missed by more than just his family, but his community.

A tribute to Edward's life will be held on Saturday, July 30, 2016 at 10:30 a.m. at the Matinchek Funeral Home and Cremation Services, Inc., 260 East Main St., Middletown, PA 17057, with the Rev. Richard Creamer and Rev. Willie Carabalo, co-officiating. There will be a viewing from 8:30 a.m. until the hour of the service at the funeral home.

Interment will be at Woodlawn Memorial Gardens, Harrisburg.

Memorial contributions may be made in his name to Carolyn Croxton Slane Hospice Residence, 1701 Linglestown Rd., Harrisburg, PA 17110.

Condolences may be sent online at www.matinchekfuneralhome.com.
{jcomments on}